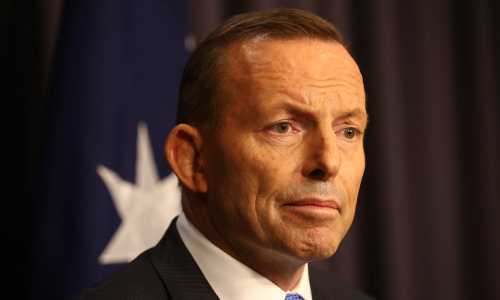 He was a polarising leader and now, after being ousted late last year, Tony Abbott has again tipped the opinion polls when it comes to his popularity.
According to an Australia Institute poll of 1412 people, over 63 per cent of Australians said they wanted the former PM to retire from parliament, reports 9News.
The poll also found 57.6 per cent of people either agreed or strongly agreed that Mr Abbott was still quite visible to the public because he wanted to try again at being PM.
However when asked about the latest poll, Mr Abbott told reporters he wanted to help carers at a Pollie Pedal charity fundraiser.
At the start of the annual Pollie Pedal charity bike ride fundraiser for Carers Australia in Canberra on Sunday, Mr Abbott told reporters his focus was on helping carers, who he considers "uncanonised saints".
The poll comes after Tony Abbott has vocalised his views on Malcolm Turnbull's political decisions. In February, Abbott authored a piece for The Australian that outlined each and every one of his former party's policies and how he could have won the election if he was still leader.
"The Coalition won the 2013 election despite promising tough measures: to abolish the schoolkids bonus and the low income supplement, to delay employer-provided superannuation benefits and to reduce Labor's promised funding boost to schools and hospitals beyond the next few years. I'm confident we could have won the 2016 election with a program of budget savings and lower tax", he said at the time.
Prior to that, the former PM wrote a letter to the editor, describing the biography of his life and time as prime minister as "partisan advocacy" and "riddled with errors".
His unusual talkativeness has made voters wary of his intentions, and speculation has been rife the former leader wants to have another go at the top job, ala Kevin Rudd era.
But Turnbull refuses to be concerned by the gossip, telling Sky News he is "utterly undistracted" by the views of Mr Abbott and simply, "the choice is between me and Bill Shorten".
Tell us, do you think Tony Abbott should retire? Would you like him to be PM again?
Comments