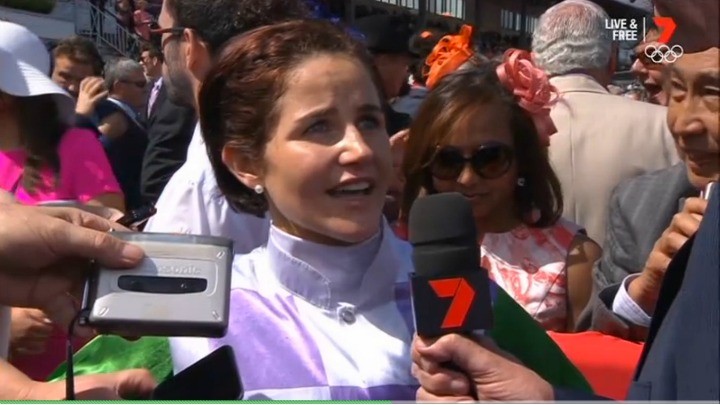 What a week it's been for Michelle Payne. Shortly after winning the Melbourne Cup, making history as the first woman to do so, she has been in a whirlwind of interviews and events, honoured in so many ways.
But yesterday was a particularly incredible day for the 30-year-old jockey.
Last night, she attended a dinner with none other than the Duke and Duchess of Cornwall, looking absolutely lovely in what's fast becoming her trademark lace and pearls.
One can only imagine what Camilla said to her as they were introduced, Camilla sharing her deep love for horses, but the jockey has so far kept mum about that moment.
Rosy Batty and Dick Smith also attended the event at Admiralty House.
No doubt Michelle's head is spinning from all the sudden fame and glory, but we do hope that the praise is sinking in, because it is so well deserved.
Earlier in the day yesterday, the most talked-about woman in sport in the world at the moment, boxer Rhonda Rousey told a crowd in Melbourne she was disappointed to miss Michelle's history-making ride.
'She's amazing': Ronda Rousey heaps praise on Michelle Payne. #UFC193 #UFCMelbourne pic.twitter.com/mqtM08QEDB

— 7Sport (@7Sport) November 12, 2015
"She's been amazing. She really set the tone. Right when we landed she went and made history for women in Melbourne," Rousey said.
"It was such a pleasure and a honour to meet her today and she said she's coming to the fight so I'm really, really excited … next time I'll have to come and watch her."
What do you think Camilla would have said to Michelle Payne? And doesn't she look lovely?  
Comments