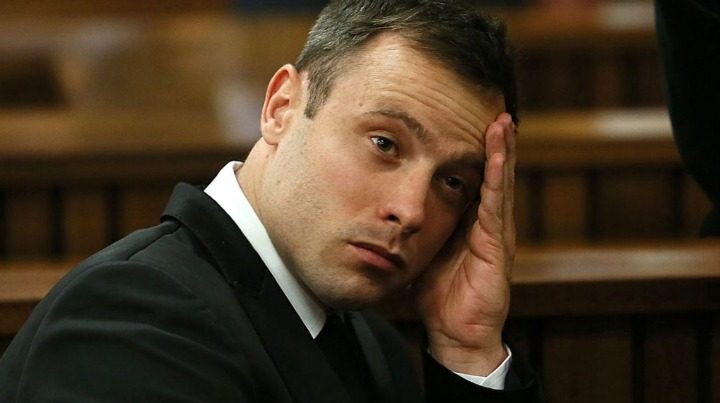 After years of silence, Oscar Pistorius has spoken in graphic detail about the night he shot and killed his girlfriend Reeva Steenkamp on Valentine's Day in 2013.
Pistorius gave the television interview only days after a psychologist told a South African court he was too "anxious and depressed" to speak at his sentencing.
Unable to hold back tears and breaking down into sobs a number of times, Pistorius told Britain's ITV that he can still "smell the blood" from that night.
"I did take Reeva's life and I have to live with that," he said.
"I can smell the blood. I can feel the warmness of it on my hands. And to know that that's your fault, that that's what you've done.
"And I understand the pain people feel, that loved her and miss her. I feel that same pain. I feel that same hate for myself. I feel that same difficulty in understanding this. And I look back and I think, I always think – how did this possibly happen? I think, how could this have happened? How could this have happened?"
Pistorius was found guilty of culpable homicide in 2014, but that ruling was later overturned and upgraded to murder. He now faces a minimum 15 years in prison – a fate he will learn on July 6 this year.
In the interview he spoke about the normal conversation he and Reeva had before they went to sleep.
He said he told Reeva, "Listen if I fall asleep would you mind just closing the doors and switching off the telly?"
He then woke at around 3am, saying he heard a "sliding noise of the window frame hitting the frame" coming from the bathroom and that the building was "pitch black".
Pistorius said his first thought was that there was an intruder in the house and he "immediately got panicked".
"This instant fear comes over me that there's somebody in the house. Somebody's was actually in the process of breaking in. And my first thing was thinking that I need to grab my firearm.
"If this person has already got into the house this window's already reopen, it's a matter of seconds before they're in the bedroom.
"And I'm scared; I'm terrified and I get my firearm and I say to Reeva, I said, 'call the police and get down on the floor. Call the police and get down on the floor'. But I'm still whispering at this stage.
"Basically on one of my hands, both my stumps and pointing the firearm. So I'm low down and I'm starting to shake and sweating and become.. Overcome with fear.
"And at that point I just entered into the passage and I start shouting and I start screaming get the f**k out of my house. Get out of my house. And I start screaming. And the more I start screaming the more scared I'm actually getting. The more like… the more, the more real this is feeling.'
It was then, he claims, he heard the toilet door slam and believed there was someone "right here, round this corner".
"I don't have time to get my legs back on, these people are definitely in the house already, if they come at me quick enough and they grab the gun or if I hesitate, they can use the gun on, on, on either of us."
Pistorius said he shouted out "Reeva call the police" in a bid to "intimidate this person, to get out of the house".
"I'm petrified at this point I don't want to stick my arm out if they can grab my arm, I just don't have the balance to align the firearm," he said.
"At this point I see the windows open. These things are running through my head…the window has just been opened, the door has just slammed. It's the middle of the night. Reeva is right next to me in bed.
"I've got to stand there until we get help; until somebody comes, because I can't go back to Reeva and then expose her and expose myself. I'm hiding behind the toilet entrance wall. I can see the toilet door – I don't know if it's one person. All I know is there's somebody in my house. And all of a sudden I hear a noise, at the toilet. I presumed it was the toilet door opening and before I knew it I'd fired four shots."
He said the echo from the gun shot was "so loud" that he couldn't hear anything and as he shouted for Ms Steenkamp to call the police and for her to get out of the house.
He said he then moved back towards the bed to look for Reeva, but couldn't find her anywhere.
"I get down to the floor and I can't feel her,' he said. 'So I start pulling everything apart and I start saying like, 'Reeva, Reeva Reeva' and I'm like pulling my hand and I'm on my stumps now still, I was like pulling my hand across the curtain.
"Thinking like "Lord please tell me she's hiding behind the curtains". And I get to the end of the curtains and my heart just sinks.
"I'm still scared that there's an intruder in the house but I'm now mixed with another fear. So I rush on my stumps back as quick as I can to the bathroom, and I've still got the firearm pointed at the door. It's locked. And I realise there is somebody inside there and they're not answering me."
It was then he began to think that Reeva could be in the bathroom and started trying to force the door open.
Pistorius claims he went to fix his prosthetic legs on before returning in a bid to force his way in.
"I'm screaming now for Reeva and just start screaming 'Jesus please god, please please please please please just don't let this be what I think it is'.
"I need to get in this toilet to see if it's Re. And if she's not answering why isn't she answering me, is she scared? Is she ok? So I ran back to the room down the passage to get the cricket bat and I start smashing down this door. I reach into the door to open the lock from the inside and I realise the key isn't there. And I punch, I take one of the planks that's now lose and I rip it out and then I can see Reeva is on the floor."
Unable to hold back his sobbing, Pistorius added: "I opened the toilet door and immediately when I saw Reeva she was over the toilet. She's.. she'd slumped over the toilet. And I… at that point I knew that I'd killed her. I knew that she was dead. And I went down on my knees and pulled her onto me."
He said he pulled her down onto the bathroom floor and rested her head on a towel.
"I just see blood and it's just blood everywhere. It's just blood everywhere… So much blood. And I don't know what to do. I try and pick her up. I'm trying to pick her up but there's so much blood I can't stand up.
"And I thought Reeva had started breathing, so I had my fingers in her mouth and I was trying to give her mouth to mouth, but there was so much blood."
Speaking about the pain and suffering he has caused Reeva's family, Pistorius said he understands and doesn't blame them for being angry and upset with him.
Attempting to describe how the situation arose, he added: "Reeva must have just gone to the bathroom. To relieve herself. And when I started shouting.. she must have thought there was somebody coming in the passage off the balcony.
"So she got scared and she closed the bathroom door and yet I'm thinking this is a confirmation of there being somebody in the bathroom. She just hears me shouting and me coming closer and closer to the bathroom.
"I don't know, you can ask yourself a million times, why, why didn't I just close the door before I went to bed? Why didn't Reeva close the door? Why when she got up to go to the toilet just tell me?
"Why didn't she shout at me from the toilet and all these things. I can't say, why did she do them, she didn't do anything wrong. But it's difficult. It's difficult to know if one of those small things didn't happen that the situation would be different. And I would still have her here with me."
He openly admitted that what he had done was "terrible" adding: "At times I don't feel like I should have the right to live for taking somebody else's life."
"What is difficult is dealing with this charge of murder,' he said.
"The day before we started the trial on March 2 2014 I sat with my lawyers and I said to the, whatever happens I will spend – the maximum for culpable homicide is 10 years – I said to them, "I will spend 10 years in jail for taking Reeva's life, for culpable homicide but I won't spend a day in jail for murdering anyone".
"I don't want to go back to jail; I don't want to have to waste my life sitting there. If I was afforded the opportunity of redemption I would like to help the less fortunate like I had in my past.
"I would like to believe that if Reeva could look down upon me that she would want me to live that life."
What do you think about Pistorius' version of events? Does this make you think differently about him?
Comments