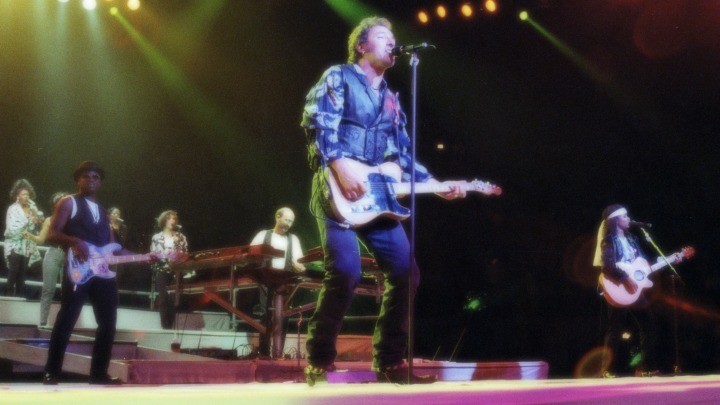 The show must go on, but as we're sharing our sorrow at Prince's recent passing Bruce Springsteen has given a stand-out tribute by opening his concert with a cover of the funk rocker's 'Purple Rain'.
It was legendary!
Three days after Prince was found dead in his Minneapolis home, The Boss strode onto the purple-hued stage and broke into the hit with no introduction.
When he finished, Springsteen said to the crowd: "There's never been any better… I always left one of his shows humbled."
Perhaps sadly, Springsteen has paid tribute to one too many heroes and peers this year.
On his current 'The River' tour Springsteen will cover The Eagles' 'Take It Easy' in tribute to Glenn Frey, while he has also covered David Bowie's 'Rebel Rebel'.
Fans, both Springsteen's and Prince's, took to Twitter in praise of the sweet and sad performance.
Guitarist Nils Lofgren provided a breathtaking guitar solo.
Bruce @springsteen finishes a painful week with an exceptionally elegant rendering of @prince's "Purple Rain."https://t.co/48wVGGaDum

— John Nichols (@NicholsUprising) April 24, 2016
Purple Rain. The artist known as @nilslofgren with @springsteen & the ESB @barclayscenter 4/23 #TheRiverTourBrooklynpic.twitter.com/VnCwEuWJ4j

— Backstreets Magazine (@backstreetsmag) April 24, 2016
Bruce Springsteen opening with a *phenomenal* Purple Rain is exactly what I needed tonight.

— Jamison Foser (@jamisonfoser) April 24, 2016
What do you think of Bruce Springsteen's tribute?
Comments