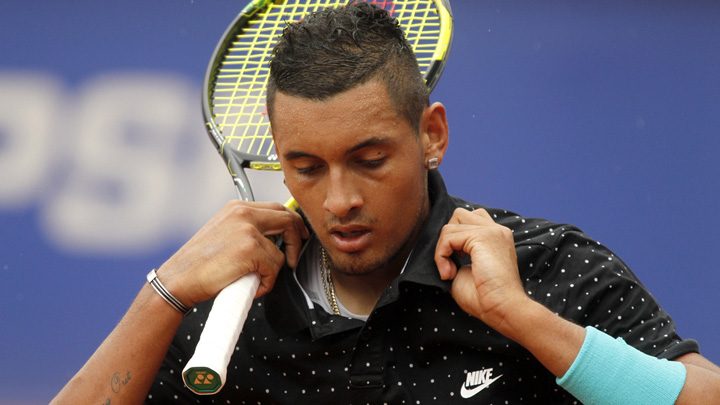 He was one of Australia's most promising tennis stars, and in some ways, he still in. He's young, he's great at it, but for the most part, many agree that he needs a bit of an attitude adjustment if he wants to be like the greats.
And if the interview published today in The Australian is anything to go by, nothing much has changed.
The 21-year-old went on the record to say, "I definitely don't love the sport."
Speaking in third person, he said, "There is zero chance that Nick Kyrgios will be playing tennis when he's 30 years old.
"There's absolutely no chance. I don't know how long my career will be but God help me if I am playing tennis at 30. There are so many more things to this world than tennis for me. Not tennis at 30. Please."
He plays down his prior drive to be the best, saying "No 1, No 20, it's no big deal".
In a few short years, he has done amazingly well at his sport and now, at the age of just 21, sits in the top 20. If he keeps it up, he will soon be a top-ten player.
And he says he'd rather be playing basketball. So why tennis? "When I was 14 I had to pick," he says. "My parents were pretty strong pushing me into tennis. They probably thought it was easier to make it in tennis. I definitely liked basketball a lot better. But it didn't work out too badly, I guess".
"It's a gift and a curse," he says. "Ever since I was young I was always at the top of my age group. There's probably a lot of people on tour that have to work a lot harder."
Perhaps his lack of interest is why he displays brat behaviour? "I can't really focus for long enough. I can't really take it seriously. They are trying to find what fuels you, motivates you. But it's tough. One week I am motivated, one week I am not. So I walked away. Not my thing."
And does he worry about criticism from tennis fans and sports lovers? "I don't care, I'll just carry on being me".
Tell us, do you think this is the right attitude to have? Or should we see that fierce passion from the greats such as Pat Rafter and Rod Laver?
Comments