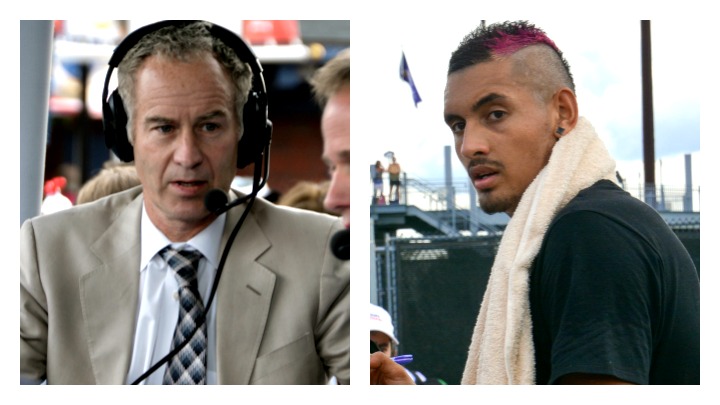 Nick Kyrgios has suffered a crushing defeat at the hands of his friend Andy Murray in Wimbledon overnight and it looks like it's finally tipped him over the edge.
Nick was at a press conference after the game when he admitted his performance was "soft" and "pathetic".
He admitted to not being committed to the game and said he doesn't have a coach because he can't find anyone that is OK with him only training when he feels like it.
"One week I'm pretty motivated to train and play," he said.
"I'm really looking forward to getting out there. One week I'll just not do anything.
"I don't really know a coach out there that would be pretty down for that one."
One man who is definitely not "down for that" is tennis legend John McEnroe who was commentating the match for viewers at home.
He slammed Nick's performance and attitude in what might be the young player's most brutal take down yet.
"What's he's giving, 80 per cent?," McEnroe said.
"This is Wimbledon, centre court; you've got to give 110 per cent to try to get back into it.
"I tell ya, this is hard to take a whole lot of positives out of this.
"It's not just the mental part, he needs to work on his game.
"He doesn't know what it takes to be a top-10 professional to win grand slams.
"I'm hoping he sees the writing on the wall before this becomes chronic, irreparable, because to me it's getting to that point.
"He's got a lot of thinking to do, a lot of work to do."
But he wasn't done yet.
"Kyrgios came out focused, looked to be playing well, served big but got tight and played some loose shots," McEnroe continued.
"Right now mentally Kyrgios is not even on the court. He's just snapped.
"How long will it take him to get back?
"Give credit to Murray because he has gotten into his head and it doesn't look like Kyrgios wants to be out there.
"This is not doing our sport any good. This is Wimbledon centre court, you have got to give 110 per cent to get back into it.
"Kyrgios has got a lot of thinking to do and a lot of work to do.
"I think this would be an important time for his parents to look him the eye and people like Lleyton Hewitt, these are the people who have got to force him to look in the mirror."
McEnroe questioned why Kyrgios talks constantly to his support box.
"Kyrgios has got to take responsibility for what is going on. He is doing a lot of talking to the box at the moment," he said.
Do you think it's time for Nick to grow up? Should he be playing competitive tennis if he's not willing to give 100 per cent?
Comments