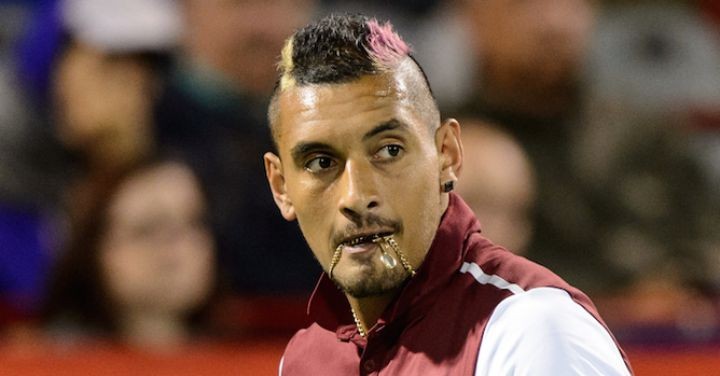 Here we go again – Nick Kyrgios has been fined $3360 at Wimbledon for unsportsmanlike behaviour.
To be specific, he apparently yelled "bulls**t" after losing the third set to Czech Radek Stepanek, reports Courier Mail.
Kyrgios was reported by umpire Mohammed Lahyani, an official renowned for showmanship.
It is not known if Kyrgios, who is guaranteed $50,000 in singles prize money ahead of his second-round clash with Dustin Brown, will appeal.
This isn't the first time Kyrgios has been fined, in fact, he had to pay $4370 at the Australian Open for swearing and $6200 at the French Open for bad language.
Mr Lahyani warned Kyrgios and Stepanek pre-match to "be careful with the language…and try to keep the racquet in your hand."
It's not clear whether Mr Lahyani's pre-match directives are unique with each players, but apparently his warning to Kyrgios and Stepanek is considered rare.
Kyrgios,was challenging the Swede when he was handed his code violation, while clearly believing he was being singled out by the official, reports ABC.
"What did I say?," Kyrgios kept on saying repeatedly.
"So you're telling me every single person that has said that in this chair has got a code violation?
"You are telling me that? In the history of tennis? Every single person? You tell me that. That's rubbish."
Many think that Kyrgios should really look at his behaviour and do something about it before it ruins his career.
But former Wimbledon champion Pat Cash says forget trying to rein in Nick Kyrgios and said his fire was all part of the package.
"The bottom line is that Nick is Nick and he's going to blow up – and that's his personality," Cash said.
"He's unbelievably interesting. A mate of mine said to me 'when that Kyrgios kid comes on, I can not turn the TV off'.
"One, (because) he's super-talented. Two, because you just never know what's going to happen.
"But he is an unbelievable talent.
Kyrgios joins Sam Querrey, Dan Evans, Adrian Mannarino, Nicolas Almagro and Eduoard Roger-Vasselin as players who have been fined at Wimbledon so far.
Do you agree with Pat Cash?
Comments