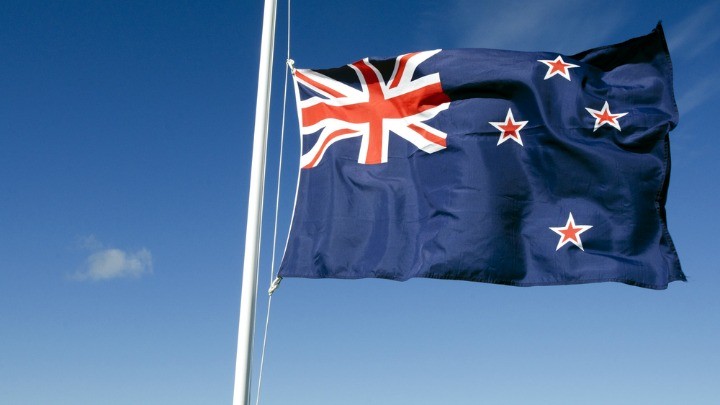 The people of New Zealand have chosen their preferred flag from the five alternatives to the current flag (pictured above).
The winner, as chosen in a nation-wide referendum, is a silver fern on a black-and-blue background:
I't snow up to New Zealand to decide whether it will dump the current flag, which includes Britain's Union Jack, as its national banner.
The new flag, which is simply titled Silver Fern (Black, White and Blue), will go head-to-head with the current flag in a second referendum to be held in March next year.
New Zealand's Prime minister John Key will be happy, having nominated the winning design as his favourite from the five options. He has pushed hard for reform, saying the existing Union Jack is a colonial relic, and the flag too easily confused with Australia's, reports the ABC.
Although New Zealand still has the Queen as its Head of State, New Zealand is independent and there have been calls to move away from colonial ties, just as we have seen here in Australia.
Changing a flag is no small matter, however. Critics are quick to recall the thousands of New Zealanders who fought and died under the current flag. And then there is the cost – the referendum alone cost NZ$26 million ($24.25 million), according to the ABC.
The closest we came to changing Australia's flag was under Paul Keating. A 2010 Morgan Poll that asked: "Do you think Australia should have a new design for our National Flag?" was supported by 29 per cent of respondents and opposed by 66 per cent, with 5 per cent uncommitted.
However, with a known republican as our prime minster, Australia could soon see the debate reopened.
Would you like the opportunity to choose a new flag? What do you think of the potential New Zealand flag?
Comments