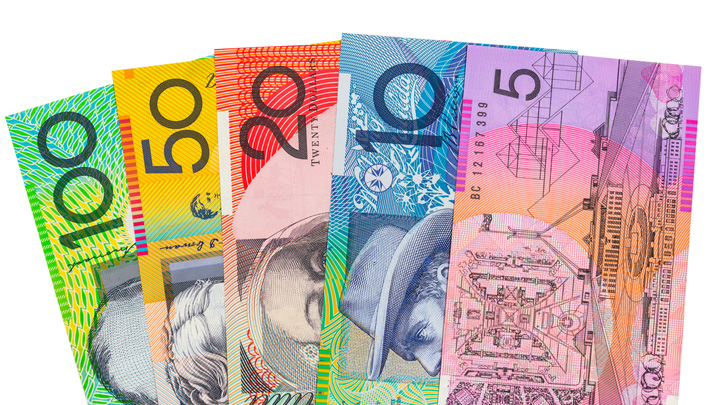 Despite predictions that by 2027 there will no longer be cash transactions, the Reserve Bank has announced an overhaul of Australian bank notes.
The next generation of $5, $10, $20, $50 and $100 notes will be released on September 1. Why? Well, it coincides with National Wattle Day because the new five-dollar note will feature native wattle.
Currently, the five-dollar note features Queen Elizabeth II on the front, along with eucalyptus leaves. There is a number 5 in the right hand corner of both sides, and Parliament House is on the back.
The Next Generation Banknote Project started in 2007, and is well behind schedule. Back in 2012, The Australian revealed The Reserve Bank had been working on a top-secret project for five years to issue a new series of polymer bank notes for Australia at a cost of $9.3 million.
There's no doubt now that this figure has ballooned.
Reserve Bank of Australia governor Glenn Stevens said the notes will have a range of new security features and the designs will have different species of Australian wattle on each denomination.
"The new series will also include a `tactile' feature to help the vision-impaired community distinguish between different denominations of banknotes," he said in a statement.
While the updated notes will have a "fresh, modern feel", they'll be the same colour, size and people portrayed on each denomination.
"The public will recognise the new banknotes," Mr Stevens said.
The release marks the 50th anniversary year of Australia's conversion to the decimal currency system, switching to dollars and cents from pounds, shillings and pence.
In recent months there has been a petition to put eye surgeon Fred Hollows on the five-dollar note, with former prime minister Bob Hawke, Olympian Cathy Freeman and Dr Hollows' widow Gabi getting behind the "Get Fred on the Fiver" campaign.
The RBA's factsheet confirms all existing notes will continue to be legal tender.
"Considerable work has already been undertaken on this project, including the development and review of banknote designs and production trials of new security features. It is important that the new features are durable, effectively incorporated into the banknote designs and rigorously tested", it said.
More details about the designs are expected to be revealed later this year.
Tell us, are you looking forward to seeing the next generation banknotes? Do you feel it's a good use of Government funds?
Comments