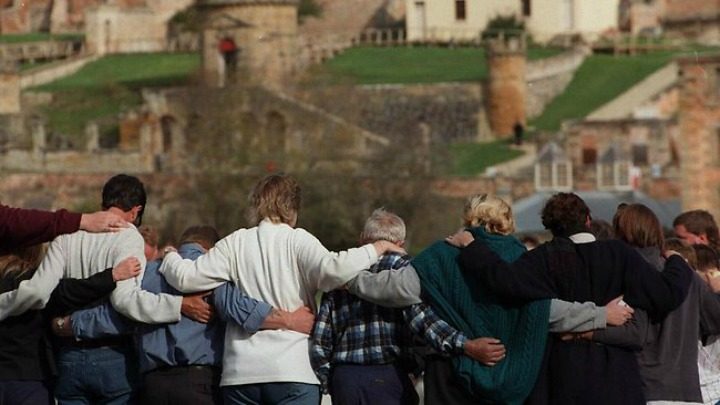 Hundreds of mourners are expected to gather at the historic Port Arthur site in Tasmania today to make 20 years since the shooting massacre that claimed the lives of 35 people.
The event will be a sombre affair with former Prime Minister John Howard expected to attend, along with relatives and friends of those who were killed on that tragic day.
Although it has been two decades since the shooting, survivors still bear mental and physical scars with many struggling to move on from what they witnessed and endured at the hands of a gunman.
It was on this day in 1996 that the shooter entered the Port Arthur site and opened fire on the crowd in the Broad Arrow Cafe, killing and injuring dozens.
He then moved on throughout the site, killing 35 people in total and injuring 23 others.
Earlier this year survivors Peter and Pauline Grenfell spoke for the first time about what they witnessed that day, saying they came face to face with Bryant and watched as he shot and killed mother Nanette Mikac and her two daughters, three-year-old Madeline and six-year-old Alannah.
"They were trying to get out, same as us," Ms Grenfell told the ABC.
"The older of the two children was very fearful and her mum said to her: 'We're safe now, pumpkin'. And she seemed to feel better then."
Ms Grenfell said she was worried about the children and wanted to get them to safety.
"I remember at least two cars driving past. They didn't stop, they just kept going," Ms Grenfell said.
"We must have been about 50 metres from the toll booth [exit] as this car pulled up and stopped.
"We thought: 'Thank God, somebody's going to pick them up and get them out of here'."
But it wasn't help, it was Bryant driving a yellow Volvo.
Ms Grenfell says Nannette walked straight towards the car with her children thinking it was their way out.
"The problem was she walked right into him," she said.
Peter Grenfell recalls standing almost at the passenger side door of the shooter's car.
"That's when I seen the gun on the front seat and I yelled out, 'It's him, run'."
Peter and Pauline ran for cover behind the trees but it was too late for Nannette and her daughters.
He killed all three of them before returning to his car and speeding off.
The Grenfell's story is just one of many horrific tales to come out of that day.
A number of survivors are expected to attend the memorial today, where opera singer Amelia Farrugia, who was at Port Arthur on the day and missed Bryant's attack in the Broad Arrow Cafe by minutes, will perform Andrew Lloyd Webber's Pie Jesu.
Do you remember the day the shootings happened? Share your thoughts below.
Comments