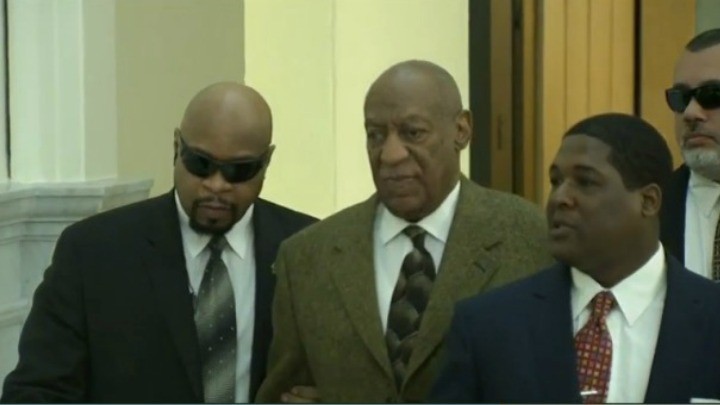 Bill Cosby was in court today looking frail – supported on both sides and carrying a cane – as his team of lawyers attempted to have a lawsuit against him dropped. In this case, a woman called Andrea Constand alleges that the actor gave her pills that knocked her out, then sexually assaulted her in 2004.
In a curious twist that speaks volumes about the messy, hazy situation Cosby find himself in, a different case against him that also involved drugs and sexual assault in 2008 was dropped just as he fronted up to court, Entertainment Weekly reports.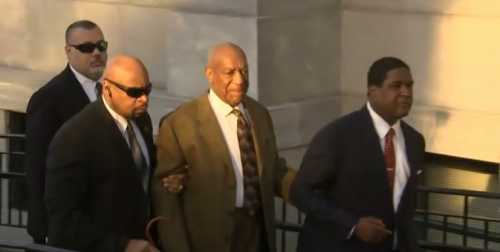 These more recent cases have drawn a lot of attention – and also hope for as many as 50 women who have come forward with similar allegations of incidences that occurred in the 70s and 80s – however, it looks like these cases will end much the same way as those that went before; with nothing happening.
Cosby, 78, was charged in December with drugging and violating the former Temple University athletic department employee Ms Constand  in 2004. the 78-year-old could get up to 10 years in prison if convicted.
When Cosby fronted up at court today, he must have been feeling nervous. Particularly when the key witness told the court he was not on Cosby's side.
"I'm not on your team here," he told Cosby's lawyer Brian McMonagle. "I want them to win."
Former Montgomery County District Attorney Bruce Castor was on the stand for six hours and said that even though he declined to charge Bill Cosby when the allegations were brought to him in 2005, and that Ms Constand's story had "inconsistencies," he still believed she was telling the truth, reports People.
"I believed Ms. Constand's account," Castor said. "What I think and what is provable in a courtroom are two different things. What I think is that Andrea Constand was inappropriately touched by Mr. Cosby.
"I'm analyzing back in 2005 what I can prove," Castor said. "All of those combined together in my mind created a situation where she had ruined her own credibility and would not be believed by a juror. That does not mean she was not telling the truth."
Cosby's lawyers argued that the actor was granted immunity by the DA after which he agreed to appear in a deposition. His lawyers argue that the December 30 charges in Pennsylvania against Cosby "violate an express agreement" between Cosby and authorities, in which authorities agreed Cosby "would never be prosecuted with respect to the allegations of sexual assault made by complainant Andrea Constand," reports People.
"Cosby would've had to have been nuts to say those things if there was any chance he could've been prosecuted," Castor said, referring to the damaging testimony in which Cosby admitted to giving women quaaludes in order to have sex with them.
The DA said in doing what he did, he had hoped his ruling would encourage Cosby to testify in the deposition and help Constand win damages. This is what happened and the lawsuit was settled for an undisclosed amount.
The judge today ordered Cosby to appear at another deposition, and the case continues.
Share your thoughts…
Comments