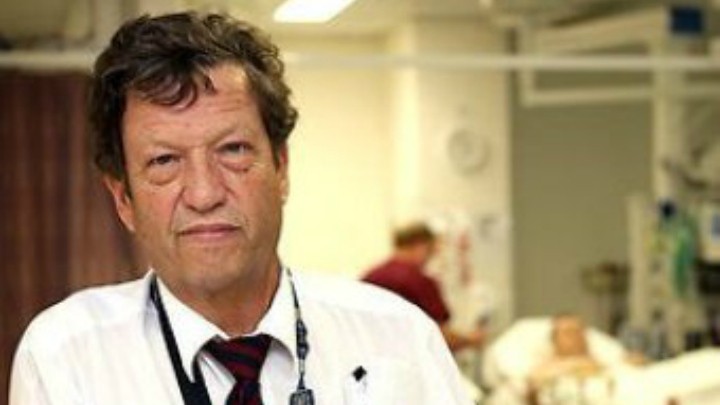 For a life spent working in the  the wee hours of the morning at one of Australia's busiest emergency departments, Sydney's St Vincent's Hospital, Profession Gordian Fulde has been awarded the Senior Australian of the Year.
The tireless Gordian, who has 'seen it all' as the the longest serving Director of Emergency in Australia, has long been outspoken on the 'scourge of ice and alcohol-fuelled violence' which sees a constant stream of Australians admitted to hospitals around the country each week. This, in turn, has fuelled a life dedicated to teaching other staff and students the finer facets of emergency medicine.
You may have seen Gordian occasionally on Kings Cross ER or Inside Story, but you're more likely to see him in schools and community groups 'sharing his stories of working in an urban warzone, and warning of the dangers of a binge drinking culture' and the affects of its abuse.
He was sought out by Ralph Kelly, father of the late Thomas Kelly, who was killed by a cowardly one-punch king hit in 2012, to reside on the Board of the Thomas Kelly Youth Foundation.
As quoted by the ABC, "for over 40 years I've seen and treated the carnage caused. It is preventable, it is unnecessary…we need to teach that actions have consequences but above all, we must increase each other's regard and respect for other human beings."
"We really do not need to be drunk and ugly or out of it to enjoy this fantastic country Australia. In Australia, we really do look after our mates and each other.
Gordian has accepted the award celebrating it as one for the 'the community'.
Professor Gordian is clearly a well deserved recipient of the prestigious award and it's nice to see it go to someone who has simply gone about their job in the best possible way; someone who has served their community tirelessly, trying to make it a better place.
Congratulations Professor Fulde. Thank you for trying to make our country a better, safer place. Let's celebrate this great, hard working, everyday Australian today.
Comments