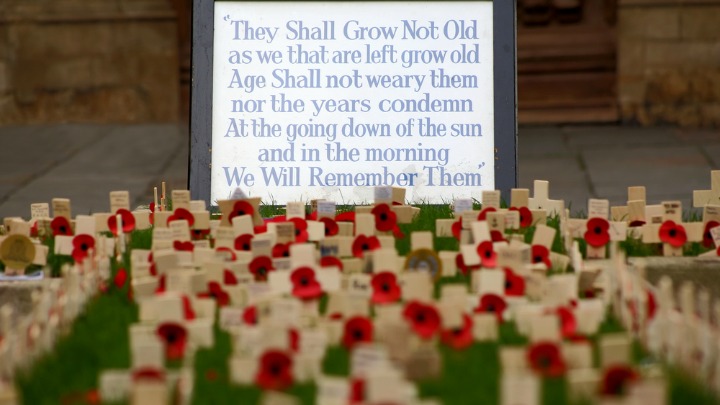 It was the war those cost thousands of Australian their lives and caused years of heartache, but now three Aussie soldiers have finally been laid to rest.
In a sombre ceremony yesterday, three diggers who have been missing since the 1916 Battle of Pozieres were buried on the centenary of the battle, after their remains were recovered from the French fields of the former Western Front.
Along with the battle of Fromelles, Pozieres was one of the most deadly in our military history.
Many men who were killed were left behind and never given a proper burial to mark their sacrifice.
Veterans' Affairs Minister Dan Tehan spoke at the funeral, saying the diggers came "of a generation where sacrifice had no bounds".
"They did not consider themselves heroes but their quality, conduct and actions belie this. They left their homes, they left their families, friends and loved ones, they left their futures," he said.
"They stepped forward to serve, to volunteer. It is a legacy today that we still treasure. The willingness to put one's self forward at a time of need, a resolve to offer one's self freely no matter what the cost. To do the job required.
"It is why we remember here at Pozieres today … the legacy. That there was a generation that bestowed on us a belief that there is a need to give of ourselves, for our community and for our nation."
Over 6,700 Australians died at Pozieres and some 4,000 are still missing.
Did anyone in your family fight in WW1 or WW2? Do you have a message of support for all our Australian defence forces?
Comments