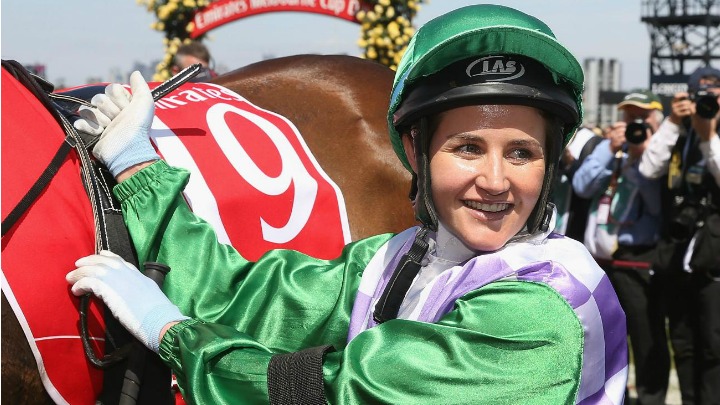 Michelle Payne made history last year when she became the first woman to win the Melbourne Cup race, but now that memory has been taken away from her in a devastating turn of events.
Michelle suffered a serious fall from her horse last month and was airlifted to hospital where she underwent surgery for her pancreas.
Now, Michelle has revealed that she can't remember winning the Melbourne Cup anymore as she hit her head when she fell and lost all memory of that once-in-a-lifetime moment.
"I must have got knocked out and when I did come to in the ambulance, I couldn't remember winning the Melbourne Cup and I had to Google it," she told radio station RSN.
"I remember falling and I remember thinking I held on too long … I was too far gone and around the horse's neck, which put me in a position to fall underneath her and she did run over me."
The champion racer was only released from hospital on Wednesday after undergoing surgery for her pancreas, which was split in the fall when her horse trampled her.
Michelle could have spent the rest of her life as a diabetic had it not been for the surgery to prevent that from occurring.
She said her surgeon saved three quarters of the severed organ, sewing it to her stomach.
"Provided it takes, it should be fine for the rest of my life. So very grateful to him for saving me a lot of hassle being a diabetic for the rest of my life," she said.
There are hopes her memory of her magnificent win will return to her one day, but doctors cannot say for sure whether or not this will happen.
Join us in wishing Michelle a speedy recovery and another Melbourne Cup win in her future!
Did you watch the Melbourne Cup when Michelle won last year? Do you have a message of support for her?
Comments