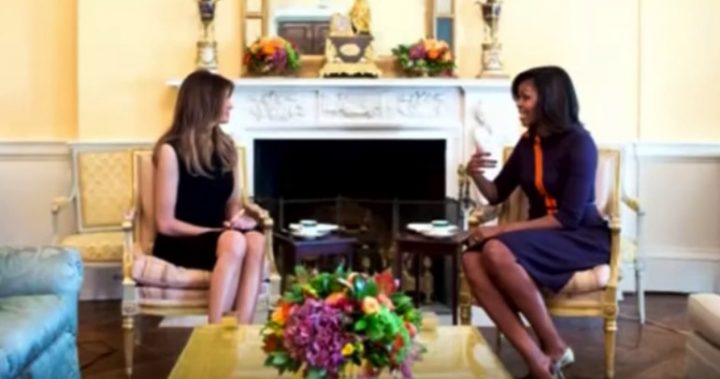 Michelle Obama and Melania Trump have sat down to tea in the White House, away from the public eye.
It might not sound like it rates a headline, but when you compare it to the first meeting between the Bushes and the Obamas after Barack Obama won the 2008 election, you'll know why people are talking about in.
In 2008, the Bushes greeted the Obamas warmly on the lawn of the White House.
But the greeting was less warm and less open between the Trumps and Obamas.
While the president and the incoming president had a 90-minute meeting and were surrounded by cameras, the First Lady and the future First Lady met behind closed doors for tea,
So, what would they discuss over tea at the White House?
Well, according to the White House the pair discussed "the unique demands of raising a family in the White House".
'The First Lady was pleased to extend that courtesy to Mrs. Trump and enjoyed the opportunity that she had to visit with her today," White House Press Secretary Josh Earnest told The Daily Mail.
'They also had a discussion about raising kids.
"Obviously the first lady's two daughters spent their formative years of their childhood at the White House and Mrs. Trump's son will also spend some important years of his childhood here.
"After their tour concluded, the first lady and Mrs. Trump walked over to the Oval Office and the two couples visited again before they departed."
The behind-closed-doors meeting prompted some people to speculate that the reception between the Obamas and the Trumps was less than friendly.
But the White House argued against that.
'I think what you saw today was a gesture of hospitality to the incoming first lady," Earnest said.
He spoke about Michelle's struggle to adapt in the White House, pointing she faced "stresses and anxieties" "moving to a new place, living inside a fish bowl, living inside a museum and raising your family there."
"And I'm sure that Mrs. Trump is feeling many of those same anxieties as she prepares to move herself and her family into the White House," he said.
"So the courtesy that Mrs. Obama extended is rooting in her own experience of going through this difficult transition."
While the husbands and wives talked, many on social media had their humorous take on what the conversations would have been.
Instagram was running hot with hilarious memes, targeting Melania's infamous speech that "plagiarised" Michelle's.
Other memes made fun of Donald Trump's multiple marriages before Melania.
And the husbands themselves weren't free from the social media humour either.
What do you think of the meeting between Michelle Obama and Melania Trump? Do you think Melania will be a good First Lady?
Comments