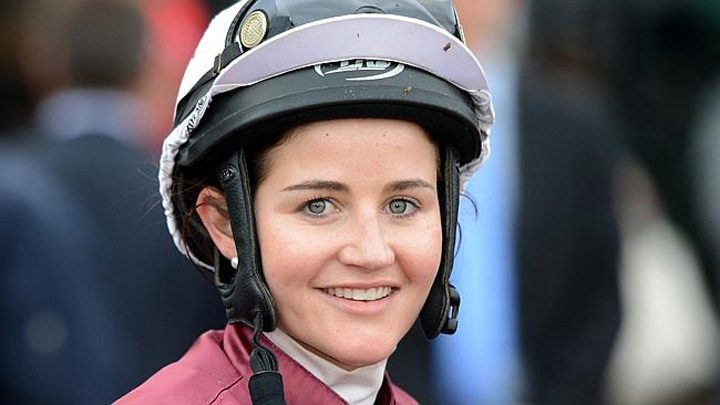 Our girl Michelle Payne is an inspiration to many, even in her darkest times. The promising jockey who won last year's Melbourne Cup on horse Prince of Penzance had a horrible fall a week ago in Mildura.
She has had to undergo pancreatic surgery after she injured her pancreas, and has taken to Twitter for the first time since the accident to speak to her fans.
Michelle is still being monitored for possible complications in Melbourne's Alfred Hospital, reports the ABC.
"Big thanks to everyone for there (sic) wishes and support. Lost tubes left right and centre here today at the Alfred. Hoping for good results!" Payne said.
Payne is expected to remain in hospital for the rest of the week with further tests to be carried out on her pancreas.
Payne's sister Therese Patton says the family wants Michelle to retire after this as the sport is too dangerous.
"We would like to see her give it away. Every time she falls she manages to hurt herself, and it's just a really dangerous sport," Patton told ABC Statewide Drive Victoria.
"Prince of Penzance still probably has a very good chance at the Melbourne Cup, so I can understand if she can ride, she would want to ride him.
"Other jockeys fall and they seem to manage to escape injury, but with her, every time she falls she either hits her head or head or breaks vertebrae. She's just one of those jockeys that doesn't have any luck when she falls.
"It will be a relief when she gives it away."
Her brother Patrick says the famous rider is not talking retirement yet despite her family's wishes.
"I gave her a speech on Saturday night about her retiring but then she talked about having a ride in the Grand Annual next year," he told Melbourne radio station RSN.
"That basically shows where her head's at".
Tell us, do you think Michelle should retire?
Thank you for all the well wishes. Off to the Alfred tonight to check out Pancreas and liver. Through the vest 🤔 pic.twitter.com/WyMv3bvFIL

— Michelle Payne (@mj_payne) May 23, 2016
Big thanks to everyone for there wishes and support. Lost tubes left right and centre here today at the Alfred. Hoping for good results! 🙏

— Michelle Payne (@mj_payne) May 30, 2016
Comments