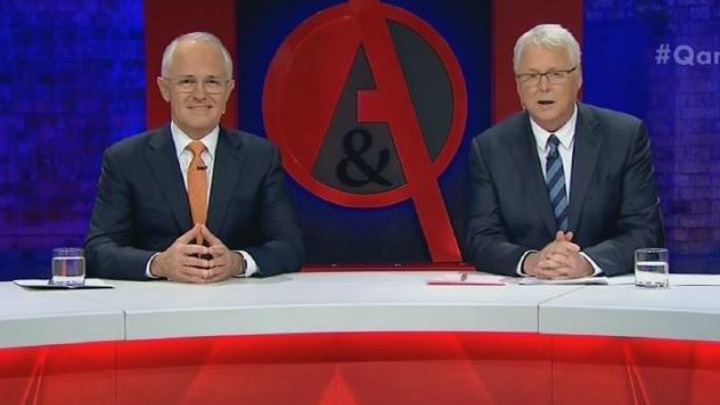 Appearing on the ABC's Q&A program on Monday, June 20, Malcolm Turnbull faced stiff questioning by the public on a wide range of topics including corporate tax cuts, GP co-payments and the National Broadband Network, and he hoped he set the record straight on the negative campaign the Labor party has been running against him.
It was the longest continuous period of public questioning the PM has submitted himself to throughout the election campaign, but from it you learnt that Turnbull's views on climate change and same-sex marriage are unchanged, and he was quick to dispel the myth that he aims to privatise Medicare.
However, the biggest defence Turnbull had to make was in relation to his plan to cut company tax rate to 25 per cent over 10 years, saying the reduction will assist small and family owned businesses in the first three years. For that to happen though, you'd have to give the Coalition another run.
"If we are re-elected, the next financial year, beginning July 1, there will be a 1 per cent reduction in company tax to 2.5 per cent for companies with a turnover of $10 million or less. The next year it will be $25 million or less. The next year it will be $50 million or less and then there will be another election," Turnbull says.
"You can then choose to chuck me out as PM if you don't like those three years if I'm elected."
Turnbull was also forced to defend the Government's hard line stance on asylum seekers and border protection following a video question from an Iranian Kurdish journalist on Manus Island.
Australia exiled me here by force 3yrs ago Why am I still in this illegal prison after 3yrs @TurnbullMalcolm? #QandA https://t.co/NEJHz3jBMk

— ABC Q&A (@QandA) June 20, 2016
He warned the Government's strong policy, if relaxed, would risk further asylum seeker deaths at sea, but he also acknowledge the tough conditions faced by those in offshore facilities.
"I recognise all of us, every one — none of us have hearts of stone," the PM says.
"[But] we have closed 14 of 17 detention centres in Australia. We have been able to do that because we have stopped the boats. Now I grant you it is tough. It is tough. But the alternative is far worse and that is what I, as PM, that's the tough choice that you entrust me to make as this nation's leader."
Turnbull also responded to questions about his position on marriage equality for same-sex couples and why a plebiscite would take place instead of the Government, if re-elected, determining the issue. He explained that he was committed to the decision of the party room, which accepted the plebiscite over parliamentary vote.
"I am the Prime Minister. But I'm not the dictator," he says. "Some people like the idea of prime ministers that ignore their colleagues. I don't agree with that."
When it came to the public's concerns on Medicare, Turnbull rejected suggestions he had changed his mind by ruling out changes to the payments system. He argued the Medicare systems was badly outdated and needed to be brought into the 21st century and that it was a challenge for government across a range of service delivery areas. He condemned the Labor party's claims that the Coalition intended on privatising Medicare, vowing it would "never be privatised".
Did you watch Q&A? What did you think of Malcolm Turnbull's responses? Is there an issue being overlooked by any of the parties during this election campaign?
Comments