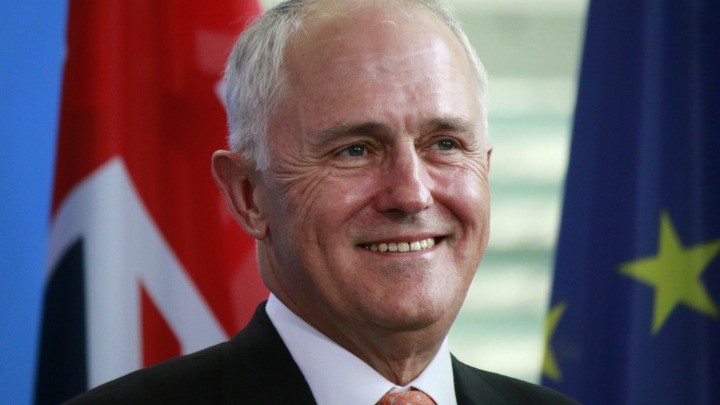 If there was anyone in the nation gunning for Australia to become a republic right now, you'd think it would be Malcolm Turnbull.
All bar one of the state and territory leaders have said they want the public to vote on the issue, and the newly crowned Australian of the Year David Morrison is committed to the cause. But Mr Turnbull, who previously led the charge for a republic in 1999 is holding back.
When pressed, Mr Turnbull insisted Australia wait until the Queen is no longer on the throne before becoming a republic.
In 1999, Mr Turnbull said John Howard had broken the nation's hearts, but yesterday, on Australia Day, he found himself doing the same.
"I've led a 'yes' case for a republic into a ­heroic defeat once. I've got no ­desire to do so again," he said, as reported in News Limited.
"If you don't want to have ­another heroic defeat and you want it to be carried, the best time to do that will be after the end of the Queen's reign."
He also said that the republican shift should come from the bottom up, not the top down: "Frankly, there was more ­momentum in the late '90s than there is now,'' he said. "It needs to have grassroots support. It is not something that a government can just do, even if it wanted to."
However supporters of the republic say the prime minister is copping out.
Tim Mayfield, national director of the Australian Republic Movement, said, "What would Malcolm have made of that in 1999 if that had been the excuse?''
Meanwhile, ARM chairman, Peter FitzSimons, said Mr Turnbull needed to provide leadership.
Even Opposition Leader Bill Shorten showed unusual sympathy for the PM. "I recognise Mr Turnbull was badly bruised by the failure of his 1999 campaign,'' he said. "But he needs to shed the ghosts of the past."
Are you surprised by Malcolm Turnbull's about face on the republican issue? Do you agree with his stance?
Comments