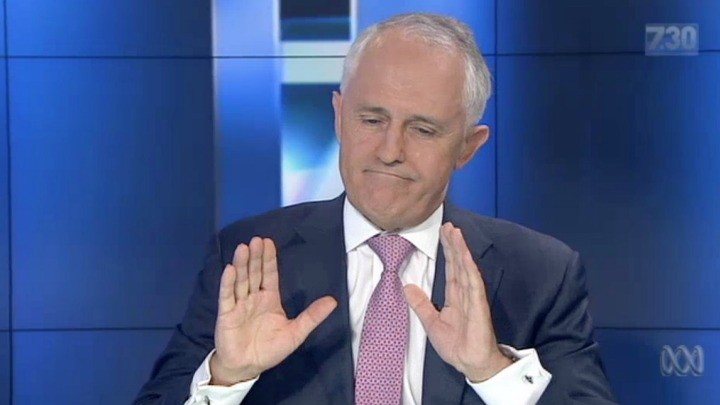 It was pretty clear from the get-go that this was not going to be an easy interview for the prime minister when he appeared on ABC's 7.30 last night, ostensibly to discuss his $1.1 billion innovation package.
Leigh Sales asked Malcolm Turnbull repeatedly to elaborate on the portion of the money that would be dedicated to women and girls, and the PM floundered, rattling off things like role models, education, mentoring, which was clearly not a satisfactory answer for the journalist.
When Sales questioned Turnbull about the broadband internet policy, the prime minister tried to steer the conversation back onto safer grounds by half-joking that he was "sorry" Sales had "lost interest in innovation", she was having none of it.
Sales questioned the NBN scheme, saying, "There's a leak of internal NBN documents to The Australian newspaper showing that the copper network is in such poor shape that the company has to spend 10-fold what it had planned to spend to whip it into shape.
"Well that's simply not true," replied Turnbull.
"OK. Let's whip through a few other things. Your minister, Mal Brough, …
"You've lost interest in innovation, have you?" said Mr Turnbull.
"I haven't lost interest, but there's a lotta things to get through and there's limited time," replied Sales.
"Aunty ABC loses interest in innovation," quipped the PM.
Sales swiftly moved on to MP Mal Brough and his part in the Peter Slipper affair, and as soon as Sales reached a sore point, Turnbull again expressed his dismay she wasn't interested in innovation.
In the end, Sales told her guest, "I ask the questions on this show". Here's the exchange that led up to that moment
"Well, Leigh, again, I'm sorry you've lost interest in innovation and it is …"
"There's lots of issues," said Sales. "We can walk and chew gum at the same time."
"But, no, well, the problem is we can't. You see, we can't chew gum at the same time because …"
"Well we can, actually, because if – look, I – look, if every guest on the program came on and they only got to talk about what they wanted to talk about, it would be a very different program," said Sales.
Turnbull interjected: "Let me ask you this question: how interested do you think your audience are …"
Sales also cut in: "I ask the questions on this program. I think they're very interested, frankly."
She finished with questions on Ian MacFarlane and Joe Hockey, before returning to innovation – a "gift" for the PM as she described it.
"How very kind of you!" laughed Turnbull before fielding a question about whether his "political honeymoon" could be over due to tough decisions on spending.
"Well, Leigh, whether it's fair or unfair, it's something for you to comment on, not for me. You often invite me to comment on myself, but that's your job and I don't want to do a work-to-rule here, but I think it's very much your responsibility," he replied.
Did you catch the interview last night? Do you think Malcolm Turnbull should have been allowed to have his say, or was Leigh Sales right in trying to draw him on other topics?
Comments