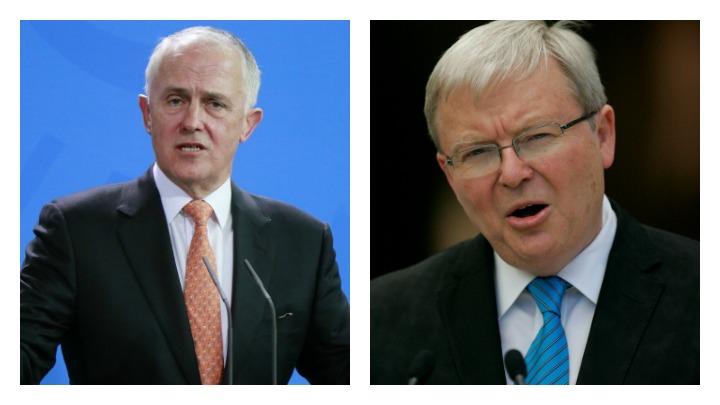 Prime Minister Malcolm Turnbull has revealed the Government will not support former PM Kevin Rudd's nomination to be Australia's candidate for the United Nations secretary-general.
A decision from the Government was expected on Thursday, July 28 however, reports say that the debate on the matter was intense in cabinet and Turnbull only contacted Rudd on Friday, July 29 to advise of the decision.
According to Channel 9 political commentator, Laurie Oakes, Turnbull made a 'captain's call' on the decision not to support the former Labor leader, revealing that deputy prime minister and foreign minister Julie Bishop had allegedly championed Rudd's bid.
#BREAKING: PM @TurnbullMalcolm has ruled out supporting Kevin Rudd's UN bid. @LaurieOakes reports. #9News https://t.co/2fXFCXfAdh

— Nine News Australia (@9NewsAUS) July 29, 2016
"I do not want to add to his disappointment, but the threshold point here is when the Australian Government nominates a person for a job, particularly an international job like this, the threshold question is: Do we believe the person, the nominee, the would-be nominee is suited for that position?" Turnbull told a press conference.
"My judgement is that Mr Rudd is not, and I've explained to him the reasons why. I don't want to go into them here today."
Turnbull denies that the decision was based on Rudd being a former Labor politician.
"I can assure you this is not a partisan issue. This is a considered judgement about Mr Rudd's suitability for the role in question, that is to say secretary-general of the United Nations," Turnbull says.
.@TurnbullMalcolm says his considered judgement is @MrKRudd is not suitable for the role #auspol https://t.co/8ouJN7i3rl

— Sky News Australia (@SkyNewsAust) July 29, 2016
That Kevin Rudd has not been endorsed by the Australian Government means his campaign to lead the UN is over.
Should the Government have supported Kevin Rudd's bid for the UN secretary-general's role as an Australian and a former prime minister? Do you think Kevin Rudd would have been a suitable nominee for the position?
Comments