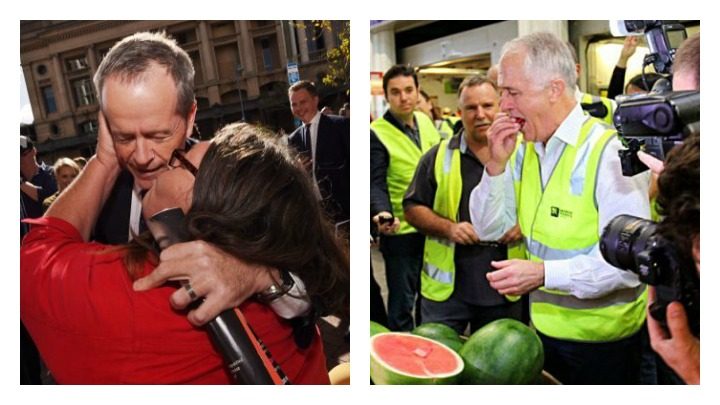 We're a quarter of the way through the federal election campaign and after weeks of hitting the road to drum up votes the campaign style of the two candidates is clear.
While Opposition Leader Bill Shorten has worked to establish himself as a 'man of the people' type figure, Prime Minister Malcolm Turnbull has been working the business and industrial crowd, mingling with factory workers and small business owners.
Mr Shorten has held a number of 'street walks', where he strolls down busy streets greeting people along the way and talking about Labor's policies.
The strategy seems to be working for him as Labor has gained ground and he has had to fend of a number of women who pulled him in for a swift kiss as he was passing.
Labor Senator Sam Dastyari said Mr Shorten had "definitely" adopted a nothing-ventured-nothing-gained approach.
"Bill is very clear that he wants to actually get out there and talk to people and frankly that's what people want," he told ABC.
"People want the unscripted moments, people want to see politicians being real, politicians interacting with people."
Mr Turnbull of the other hand has visited shipyards and spent time with factory workers and business owners in a bid to push his party's economic polices.
Liberal senator Arthur Sinodinos said there would be a lot of "colour and movement" to come in the coming weeks of the election campaign, but right now it's all about the money.
"The strategy has been to highlight the main messages from the budget, around our plan for jobs and growth," he said.
"A good day is a day where you're able to get your message across and you largely stay out of trouble.
"Now, the great thing about campaigns and the thing that makes it endlessly fascinating for all of us is there's an 'X factor', you don't know what's around the corner."
The two different strategies highlight the key differences between the two parties, with each betting their policies and tactics will get them over the line.
Who will you be voting for come election day? Do you think the campaign has been interesting so far or are you over it?
Comments