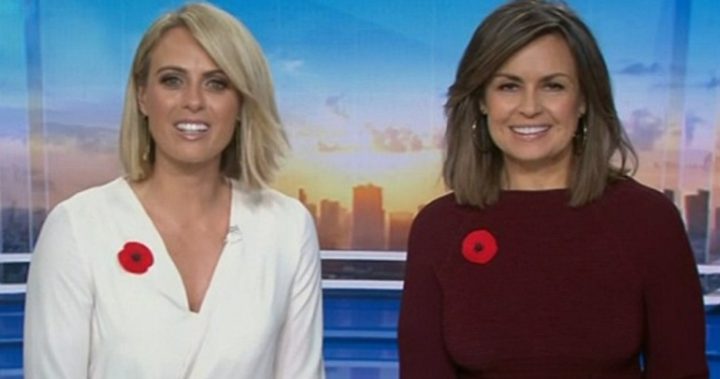 Like millions of people across Australia, Today show co-hosts Lisa Wilkinson and Sylvia Jeffreys wore poppies to commemorate Remembrance Day.
But the pair sparked controversy on social media, with people criticising them for wearing the poppies.
So, what was the issue?
Well, the pair copped flack for wearing the poppies on the right side – with some taking to social media pointing out that "poppies should be worn on the left".
One man, who claimed to be a veteran, posted on the Today show Facebook page accusing the pair of "using the poppies as a fashion statement."
"Men on the left women on the right," he wrote.
"It is our national day to remember our fallen heros (sic).. Next year maybe you can show some respect and all wear them on the left hand side over your heart….. instead of using the as a personal item."
So, what is the protocol for wearing poppies?
Well, the Australian War Memorial's military heraldry and technology department told the Daily Mail "it seems like a strange thing to get upset about".
"It's a symbol of Remembrance Day and while there are protocols about the wearing of medals, for someone in the general public wearing a poppy, they can wear it wherever they like," a spokesman said.
The RSL had a different take.
They believe everyone should wear poppies on the right.
"It's to be worn on the right breast because it's not a medal earned… anything commemorative goes on the right," the RSL told the Daily Mail.
But, The Royal British Legion disagreed, declaring "there is no right or wrong way to wear a poppy".
"It is a matter of personal choice whether an individual chooses to wear a poppy and also how they choose to wear it," a quote in the Daily Mail said.
"The best way to wear a poppy is to wear it with pride."
There was a similar trend of wearing the poppies on Today Extra, with Sonia Kruger wearing hers on the right and her co-hosts Richard Wilkins and David Campbell wearing theirs on the left.
What do you think? Does it really matter how someone wears their poppy?
Comments