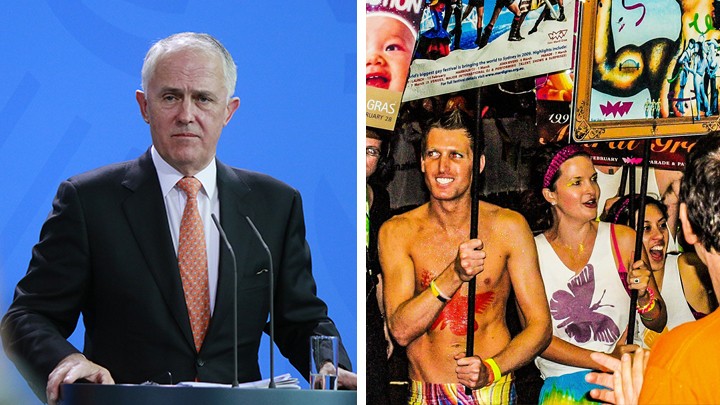 Malcolm Turnbull could soon become the first prime minister to attend Sydney's Gay and Lesbian Mardi Gras while in power.
While no sitting Prime Minister has made this gesture, Turnbull himself attended last year as the Member for Wentworth, fuelling speculation he'll do the same again.
While nothing has been locked in, the simple possibility is reportedly causing a fair share of controversy. 7 News described the response from several conservative Liberal MPs as "furious" and "quietly fuming".
One unnamed MP said it would be a "dangerous thing" to do – especially in an election year – and it could "amplify divisions within the party".
Alex Greenwich, Independent member for Sydney and co-chair of Australian Marriage Equality, was understandably more enthused. He said it would be "a wonderful event for the Prime Minister to attend".
Another sitting Liberal MP told 7 News "he shouldn't have been there in the past let alone now".
"This is going to cause some real problems' for the government."
Not all Liberals share this view, however. Queensland MP Warren Entsch, who has been pushing for marriage equality, said he had no problem with it.
"I wouldn't be discouraging him from doing it, that's for sure".
Mr Entsch added that he wants the Australian Government to agree on a plebiscite on marriage equality by March, with a national vote held within 100 days of the next election.
Opposition Leader Bill Shorten is likewise enthusiastic about the idea.
"I think it would be fine for Malcolm Turnbull to go. If I was prime minister, I would be delighted to go and I'd take my family too".
Do you agree? Should Malcolm Turnbull accept the invitation? And do you believe his attendance – one way or the other – would have a genuine affect on Australia's marriage equality situation?
Comments