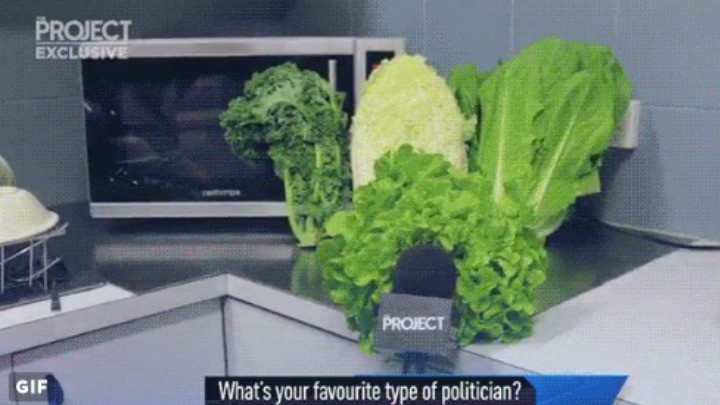 Did you catch Bill Shorten's close encounter with actual people yesterday? The Opposition leader was "out and about", talking to real Australians and reminding them that Labor does not support an increase in the GST.
One of his encounters was caught on camera, with Sky News presenter described as "small talk your most awkward uncle would be proud of". Mr Shorten, while following a family around and ostensibly helping them to buy their groceries asked the mother which was her favourite kind of lettuce. She told the Labor boss that she was an iceberg fan.
The line of enquiry continued with Mr Shorten asking the tweenager if she liked lettuce; he then later declare that custard was a staple food.
Shorten goes to the shops …. awkward! #pmlive @SkyNewsAust #lettuce https://t.co/OWYmUjY05a

— Paul Murray (@PMOnAir) January 12, 2016
What's your favourite type of lettuce? https://t.co/BxAjKvvnvc — Alice Workman (@workmanalice) January 12, 2016

Mr Shorten jumped at the opportunity to hit social media with an anti-GST message in reply toABC journalist Alice Workman's tweet:
Cos you asked @workmanalice – my favourite lettuce is one that doesn't have a 15 per cent GST on it. pic.twitter.com/2DChKdws0D

— Bill Shorten (@billshortenmp) January 12, 2016
  And this sparked a whole lot of silliness with the Greens party leader chiming in:
@workmanalice Butter lettuce, but with four growing on the farm, I'm very inclusionary when it comes to #lettuce . — Richard Di Natale (@RichardDiNatale) January 13, 2016

And even Christopher Pyne:
@workmanalice I like all forms of green leaf salad that I can think of – but I do particularly like a Vietnamese coleslaw

— Christopher Pyne (@cpyne) January 12, 2016
  While Ms Workman is still waiting on an answer from Malcolm Turnbull, people jumped at the opportunity to share their lettuce puns:  
has someone already said 'don't blame bill, he is no rocket scientist' — Bec Shaw (@Brocklesnitch) January 12, 2016
Endive had the thyme of my life. https://t.co/6PJtiYxID4 #lettuce

— helen pringle (@helenpringle) January 13, 2016
Why won't MPs #lettuce tax their corporate mates? Will it put the kibosh on all those lovely board appointments?#auspol They work for who? — mark dickenson (@bugwannostra) January 13, 2016

As a consequence of this the hashtag #lettuce has been trending on Twitter all day today, and The Project has announced they will be interviewing the vegetable in question this evening.
With Shorten not revealing his fave #lettuce, we question the veggie at the centre of it all #TheProjectTV #auspol pic.twitter.com/5EQgZhbkZU

— #TheProjectTV (@theprojecttv) January 13, 2016
What do you make of all this lettuce talk? Do you think there's any place for vegetables in Australian politics?
Comments