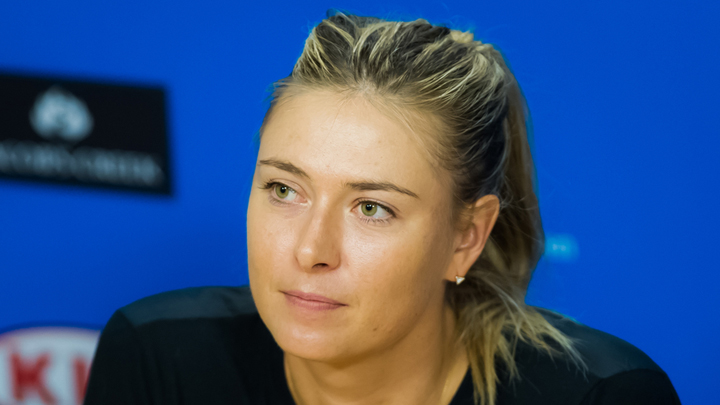 It's so disappointing as a sports fan to find out that some of your favourite players or the most successful in the sport have won their accolades whilst doping. One of these sporting champions is Maria Sharapova who today was banned for two years from the sport by the International Tennis Federation (ITF) after failing a drug test.
The tennis player tested positive for meldonium at Australian Open and now will miss Wimbledon and the Rio Olympics
Sharapova tested positive for the controversial banned medication meldonium during January's Australian Open, reports the ABC.
"An independent tribunal appointed under Article 8.1 of the 2016 Tennis Anti-Doping Programme has found that Maria Sharapova committed an anti-doping rule violation under Article 2.1 of the programme, and as a consequence has disqualified the affected results and imposed a period of ineligibility of two years, commencing on 26 January 2016," a statement on the ITF website said.
"The ITF accepts that the player did not engage in conduct that she knew constituted an anti-doping rule violation.
"She was the sole author of her own misfortune," it said.
Sharapova said she would appeal the ban at the Court of Arbitration for Sport.
"While the tribunal concluded correctly that I did not intentionally violate the anti-doping rules, I cannot accept an unfairly harsh two-year suspension," Sharapova wrote.
"The tribunal, whose members were selected by the ITF, agreed that I did not do anything intentionally wrong, yet they seek to keep me from playing tennis for two years."
Sharapova is not allowed to played until midnight on January 25, 2018.
"I have missed playing tennis and I have missed my amazing fans, who are the best and most loyal fans in the world," she wrote on her Facebook page.
"I have read your letters. I have read your social media posts and your love and support has gotten me through these tough days.
"I intend to stand for what I believe is right and that's why I will fight to be back on the tennis court as soon as possible."
Sharapova was once the world's highest-paid female athlete and is one of the most recognisable.
But not everyone thinks that the ban was unfair – Australian legend Pat Cash come out saying that two years isn't enough.
"She clearly knew and her doctor [knew] that it was performance enhancing," Cash told ABC 702 Sydney.
"She'd been taking it for a long time. It's quite simply cheating, its a very special chemical and its very tough to get."
"She's made a mistake, but my gut feeling is if you're a professional athlete and you know you're taking a performance-enhancing drug, which clearly she was – then two years, I think she got off pretty lightly in that respect," he said.
The 1987 Wimbledon champion question the strength of the drug. "How much does it help her get through those hot days in Australia, those long matches in the stinking heat of New York, or wherever else it happened to be," Cash asked.
"She's going to be able to recover much better than the other athletes. How many matches has this helped her win? It wasn't on the banned list but it was performance-enhancing".
It's certainly an interesting debate.
What do you think? Should Maria Sharapova be banned for two years? Is it too harsh or too lenient?
Comments