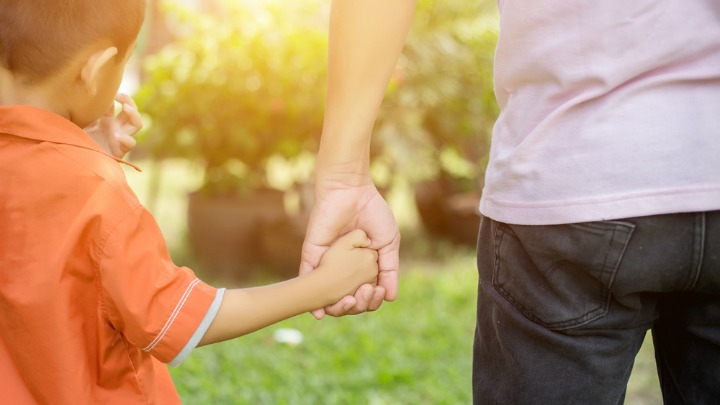 The parenting style of on couple from the United Kingdom has come under fire after one of their children took a wee on a television studio floor on live television.
Adele and Matt Allen appeared on This Morning in the UK to promote their 'off-grid' parenting style. The couple does not believe in vaccinating or going to the doctor and says their children heal "naturally", and both children — aged five and one — still breastfeed.
"I don't see any need to inject any foreign substance directly into the blood stream. That's not how children will come into contact with a germ naturally anyway, be it in the mouth or another way," Ms Allen said.
She said that she didn't see any need to supplement her children with anything other than breastmilk.
While that's a hot topic of discussion for many modern day parents in itself, things got a little awkward and incredibly 'natural' for the show's viewers when the Allen's daughter urinated on the studio floor and her parents didn't seem put out by it.
Some viewers were quick to judge the Allens, calling the children 'feral' and suggesting that with a lack of rules and discipline they would grow up to be future delinquents.
Letting your child wee on the floor and the other jump all over the sofa? This is why there are rules and discipline #offgridparenting

— Amy Ross (@Amyross_92) July 20, 2016
While others were appalled that the parents did nothing to prevent the child from weeing on the floor or their son from bouncing around on the studio couch.
Further, viewers expressed their concern that the parents allowed their five-year-old son to dictate to them when he would be ready to go to school, with Ms Allen saying, "There is no need for him to be able to read and write at this age anyway."
You're impressed that your 5 year old boy can only count up to 20?! #offgridparenting

— kath (@katherineelanor) July 20, 2016
What are your thoughts on this issue — do children need discipline? Are the parents wrong in not using doctors or vaccinating their children?
Comments