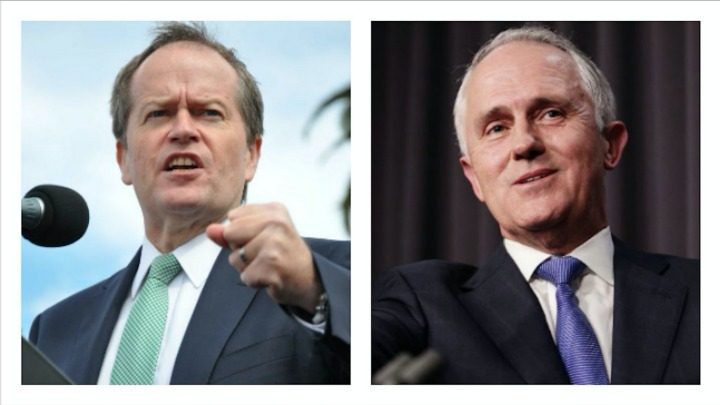 After weeks of dancing around the issue of the economy, both parties are knuckling down and getting to the serious business of who has the better plan to run the economy.
Labor will shift its focus today to promoting its 'Ten-Year Plan for Australia's Economy', which includes a push for more money to be spent on social services, including education and childcare.
The Liberal Party has repeatedly attacked Labor over their policy, saying their economic plan leaves a "black hole" in the budget that will blow out Australia's deficit even more.
Meanwhile, Labor has returned fire over the LNP's plans to cut company taxes by 25 per cent over 10 years, saying it is economically unfair and essentially a slap in the face to every days Aussies.
Labor's 10-year plan for Australia's economy is focused on supporting the transition in our economy & making investments for future growth.

— Bill Shorten (@billshortenmp) June 7, 2016
Fairness is not a dividend of prosperity – it is a foundation for growth. #ausvotes

— Bill Shorten (@billshortenmp) June 7, 2016
The two parties will go head to head over the next few weeks, with Treasurer Scott Morrison releasing an ad today in which Mr Shorten, back in March 2012, said: "Any student of Australian business and economic history since the mid-80s, knows part of Australia's success was derived through the reduction in the company tax rate".
The comment appears to support the LNP's plan and to be a contradiction to Mr Shorten's policy in this election, where he strongly apposes a cut to company tax rates.
Earlier today, Mr Shorten said Labor is about investing in people to drive economic growth across the country.
"Labor believes that when middle and working-class families prosper, when small businesses prosper, Australia prospers. We will invest in schools, TAFE and universities to strengthen the skills, talent and capabilities of all Australians," the Opposition Leader said ahead of the speech.
Both parties say they will return the budget to surplus by 2020-21, but they will be going about it in a very different way.
Labor has indicated that it will actually allow the deficit to worsen before it returns to the black in four years' time, opening up a case for the LNP to cast doubt on their plan.
.@MathiasCormann doubts @billshortenmp can bring home the bacon when it comes to delivering a surplus #ausvotes pic.twitter.com/tQcSraMqfG

— Matthew Doran (@MattDoran91) June 7, 2016
Both parties will be working hard over the next few weeks to convince the Australian people they are better equipped to return the budget to surplus.
So we want to ask you today, who do you think is better equipped to run the economy?
Who do you trust to run the economy? Which party do you think has the best plan?
Comments