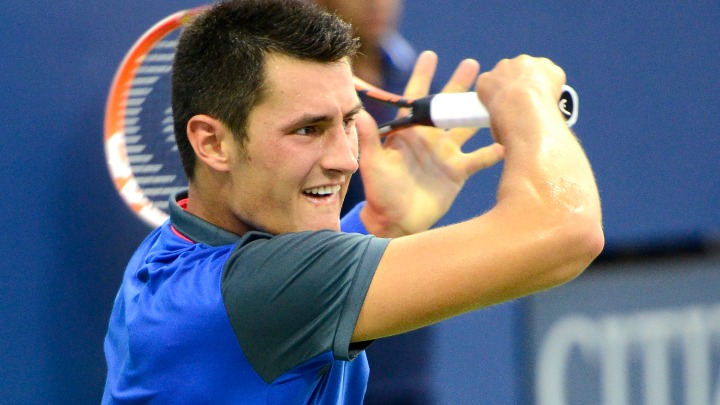 There comes a point where you just can't make any excuses for someone, and it's reached that point for today's leading tennis brat, Bernard Tomic.
The 23-year-old has pulled out of the quarter-final match in the Sydney International mid-match, giving a garbled bunch of unsatisfactory reasonings for retiring, when the truth is simple: he just didn't want to be there.
In the post-match press conference, Tomic claimed he wasn't feeling well and that three matches in two days was too much – as would have been the case if he had made it to the final.
Tomic said, "I'm sure you all want to know (why I retired). I was just feeling a little bit sick last night and it was very difficult to play two matches today. So unfortunately I did the right decision, being sick, to not play today.
"For me the best idea was not to play. I love Sydney so much, it was a shame I couldn't be 100 per cent today."
"I do love (playing here) in Sydney" #Tomic #SydneyTennis pic.twitter.com/AsLua5GDzW

— Apia Intl Sydney (@SydneyTennis) January 15, 2016
However, critics have hit out at the Australian number 1 saying that he gave up on Sydney tournament because he had bigger fish to fry – free from the final tomorrow, Tomic now has the chance to prepare for the first grand slam on Monday, reports News Limited.
A recording of a conversation between Tomic and the umpire Mohamed Lahyani made it pretty clear that the tennis player did not want to be playing.
The umpire told Tomic to focus on the game at hand, but he replied, "I'm looking to Melbourne I'm not looking to this."
Tomic was trailing Teymuraz Gabashvili 6-3, 3-0 when he pulled out of the match.
Commentators Todd Woodbridge and John Fitzgerald were stunned:  "Wow. Disappointing. Not much more we can say about that, Fitzy," said Woodbridge. "I understand the difficulties of preparing for the Australian Open and wanting to be fresh but you've got responsibilities to the tour and responsibilities to the fans and the tournament and that didn't look real good."
Fitzgerald replied, "No, that looked horrendous."
Former doubles champ Rennae Stubbs also expressed her dismay at Tomic's behaviour:
No offense Bernie but you're not winning the Australian Open. You might want to concentrate on winning Sydney instead. #idontunderstand

— rennae stubbs (@rennaestubbs) January 15, 2016
Bernie Tomic just the latest example but too many pre-Australian Open events treated with contempt by players. — Mike Dickson (@Mike_Dickson_DM) January 15, 2016
Do you think Bernard Tomic showed a lack of respect for his fans and the organisers of the tournament by pulling out or was he right to set his sights on the bigger prize?
Comments