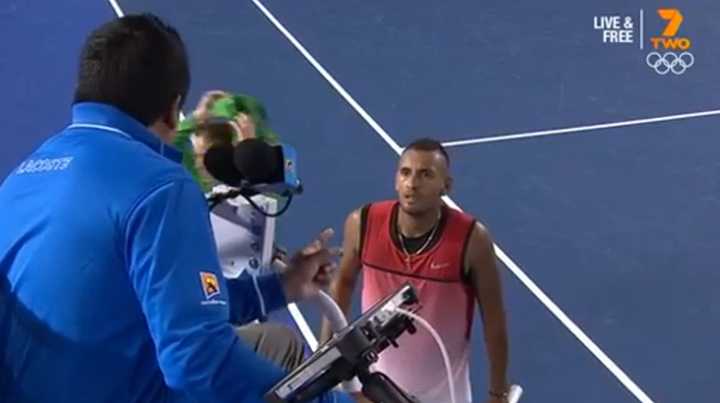 The one piece of feedback that the Australian Open always manages to be marred with is that of poor sportsmanship, and it seems this year Kyrgios is the one to hold this debate open… again.  Our young star fell in the fourth set of the third round of the tournament last night, but it is the comments afterwards and the environment during the match that has everyone talking.  Is it just passion for his sport and disappointment in his-self coming out?  Or do you feel disappointed in his behaviour last night?
In the closing remarks to the Umpire, Keothavong, when shaking hands Kyrgios was reported as saying to him "you're a terrible referee".  He later spoke about his behaviour in the post-match press conference and expanded on his displeasure at how the match was managed pointing to audience interruption as a large source of his distraction.
"I just told him what I thought," Kyrgios said. "I don't think he controlled the match well. He let a guy throw a ball back into play, which for me is pretty unprofessional. As I said previously, you know, music playing during points. First time I've ever seen it happen."
When the ball was thrown back into play, Kyrgios hurled his racket at the ground.  Then, later in the match got worked up about music he could hear coming from the crowd which he found distracting.
Krygios questioned the umpire throughout the game.
"It was just strange. He was telling me he couldn't hear it," Kyrgios said.
"I don't know, I just thought he might have used the microphone to say, 'Could you quiet it down.' I don't know. I've never had it happen to me before … he didn't tell the crowd to quieten down if it was coming from the crowd, which I think is a fair thing to do if you're in the chair."
The source of the music remains unknown but many concluded later that it was possibly music coming from the Big Bash Cricket across the street.
I don't know where it came from," Kyrgios said.
"The ref was telling me he couldn't hear it. I could blatantly hear it. So unless tennis, you can start playing tennis when there's music in the background, that's a new rule. They need to add it to the rule book."
It was clear in the press conference that Kyrgios was hoping to step into Lleyton Hewitt's now vacant shoes as Australia's male tennis icon but was left heartbroken for his efforts.
"I'm so disappointed, like I put so much work in, and I just feel like I let a lot of people down," he said.  "I don't know. I was expecting a bit more out of myself. I don't know. I was expecting like another real deep run. I put a lot of work in. It's pretty heartbreaking …"
Kyrgios, who was clearly anxious in the first two sets and firmed up in the third perhaps just wanted to win in front of his home crowd and take on the second week of the Australian Open with vigour.  Maybe he just wanted it too much.
"I maybe walked out there too serious. Maybe walked out there trying to focus too much on what I had to do. I probably should just go out there and try to enjoy myself, have fun, not take it so seriously, probably like the third set."
Do you think it is a justification for his behaviour?  Were you watching?
Comments