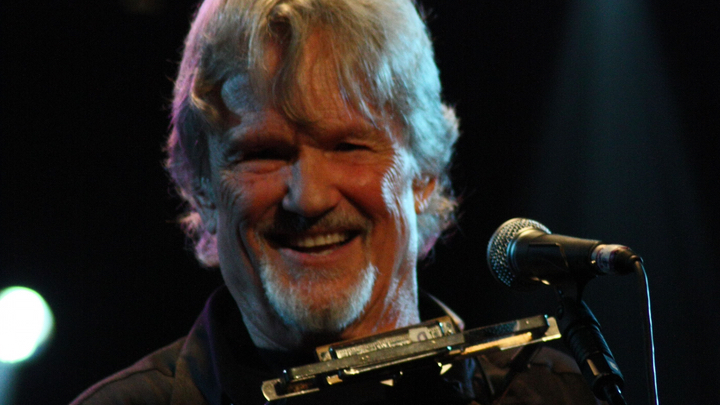 He is an entertainment icon with hundreds of screen credits including A Star is Born and Heaven's Gate and seventeen country music albums, but Kris Kristofferson's biggest accolade might be surviving a dangerous misdiagnosis.
Kris told Fox News in 2011 "I wish my memory weren't so bad. They tell me it's from all the football and boxing and the concussions that I got. A couple of years ago my memory just started going. I can remember my songs so I can perform, but other than that…." In 2013, he was diagnosed with Alzheimer's disease but recently he got a new lease on life as additional test revealed that he was suffering the side effects of Lyme disease.
Kris' wife Lisa told the Huffington Post about his recovery "We were driving back from his sixth HBOT treatment, and he looks over at me and says, 'Wow, I feel like I'm back.' And I looked right in his eyes, and I said, 'OH MY GOD, HE'S BACK! It was like, WHOA!"
Even through it all he never stopped performing. While some memories would leave, he could always remember his songs. Lisa stated that "music is deeply embedded in the brain". Kris also never gave up acting with some current films to his credit they were at one point giving him his line via a teleprompter. Working through such adversity made Lisa beam "He is such a soldier. He never gives up".
According to the Lyme Disease Association of Australia, the initial symptoms of Acute Lyme Disease are "Flu-like symptoms such as a headache, fever, soreness muscle & unexplained fatigue." If someone is suffering from Chronic Lyme disease, the symptoms are so varied that they are broken into eleven different body categories. They can be viewed by following this link.
While Kris is on the road to recovery, Lisa and he can make jokes about the situation. Lisa said, "We laugh at him and with him and we make the best of it because Lyme is so tragic that if you don't have something to counterbalance the sadness of that, it'll take you down". She concluded "Being on the road, the laughter, the music. It's great medicine. And I understand that when you have Lyme disease, your quality of life will vary with each different person. You have to just do the best you can."
Have you or someone you know had Lyme disease? What is your favorite Kristofferson song or film?
Comments