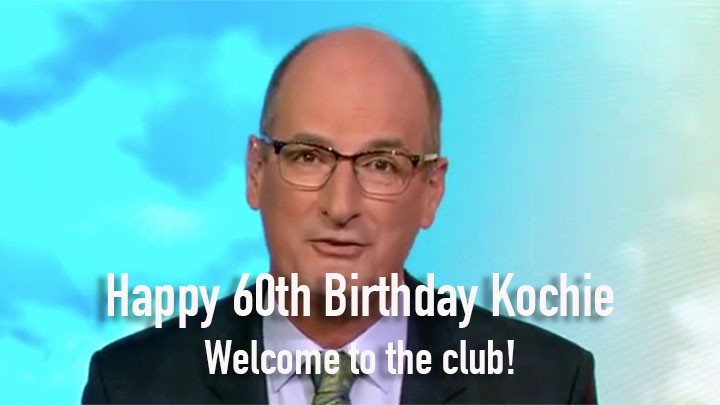 Happy 60th Birthday David Koch, Australia is singing for you today. If you were watching Sunrise this morning you will have seen Kochie's workmates reduce him to tears by tricking him into thinking that his daughter was sending him a video message from the other side of the world, only to have her arrive seconds later in the set. He cried like any father missing his daughter would and it made everyone watching wipe a tear away.
The veteran of breakfast television's Sunrise is taking 60 in his stride, just as we love it. And he has said he has no plans to slow down as he joins the 6-0 club today. So today we want you to send him your wishes and share in the moment.
It's worth remembering that the David Koch we know and love has been getting up at 3am as long as we can remember to present the morning show. He first appeared on our screens in 2002, as the face of Sunrise after loved presenter Chris Reason left due to a cancer diagnosis, and we have enjoyed his breakfast company ever since. But he started his career in financial media a lot earlier.
What isn't as widely talked about is what Kochie did before that, founding Personal Investment magazines in Australia, New Zealand and the UK and building a portfolio of media that supported people in understanding their personal investment needs. And he hasn't slowed down as he's headed into 60 years and does not speak of retirement.
He's got the same attitude as many here do.
"I've never been worried about birthdays or getting older," Koch said. "I think it's just a state of mind more than anything else."
He was there on TV with us this morning with his team and family celebrating how special he has become to the Australian people and this weekend there is rumours of a big party for his family and friends.
"I don't know what they're doing on air (on Monday)," he said. "But there have been lots of secret meetings, so I think they're up to something," he said in the media last week.  It's nice to know they got him good isn't it.
HAPPY BIRTHDAY KOCHIE!  WE WELCOME YOU TO POP IN TO STARTS AT 60 OCCASIONALLY NOW!  
Happy Birthday Kochie!This will make you cry! The heart warming moment Kochie's daughter surprised him by returning from the UK for a birthday surprise! Happy birthday Kochmeister… #sun7

Posted by Sunrise on Sunday, March 6, 2016
Comments