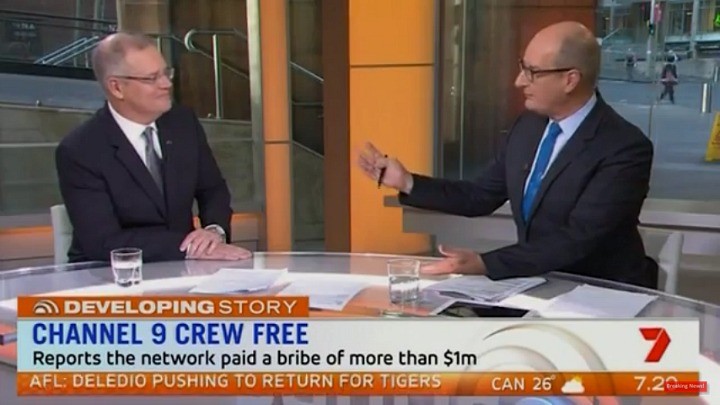 Australia has been captivated by the 60 Minutes kidnapping story and it looks like Sunrise host David Koch is no different.
Kochie was interviewing federal Treasurer Scott Morrison this morning when he latched onto the botched kidnapping case and pressed Mr Morrison over whether or not a bribe was paid to get the Nine crew out of jail in Lebanon.
Yesterday it was reported that Channel 9 paid a bribe to secure the freedom of Australian mother Sally Faulkner and journalist Tara Brown and her crew.
Kochie suggested that the Australian Securities and Investments Commission (ASIC) should investigate the case and look into whether or not they paid off someone in Lebanon.
Mr Morrison was having none of it though and things quickly became heated between the pair.
"You are making a lot of assumptions, I am not going to do that this morning," Morrison fired back.
"I think what we are pleased about is Miss Faulkner [the children's mother] is coming home as are other Australians coming home," he said.
Kochie wasn't going to give up thought and continued to hound the treasurer with questions.
"I am not going to respond to hypotheticals," Morrison said.
"You are asking me to speculate on a set of facts that would have to be determined.
"I am not going to try this case on morning television," he added.
Responded Koch: "I am not asking you to."
To which Morrison replied: "I think you are."
A number of viewers jumped on social media and accused the Channel 7 host of capitalising on the story to make Channel 9 look bad.
"Please don't let Kochie interview sensitive issues! All he seemed interested in was pinning it on channel 9!" wrote one viewer.
"Kochie can't believe you, what if it where your family. Shame on you! Plus what if it was channel 7 bet you wouldn't bag them," said another.
"Kochie you are an egotistical fool! Stop trying to smear Channel 9 & the 60 Mins crew, I'm sure Channel 7 would do the same if you or Sam landed yourselves in a Lebanese Prison."
Others though jumped to his defence, saying he had a good point and that Channel 9 should be investigated over the whole case.
What are your thoughts?
Was David Koch out of line and insensitive about the case? Or should Channel 9 be investigated over the botched story?
Comments