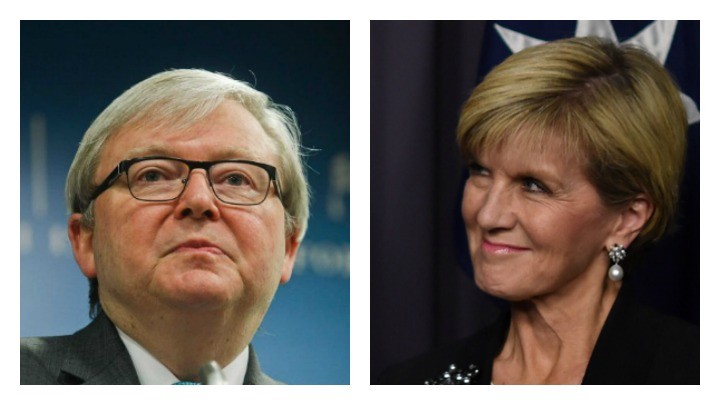 You would understand if Kevin Rudd was seeing red today.
The former Prime Minister just had his dream of securing the top job at the United Nations ripped out from underneath him by none other than Foreign Minister Julie Bishop.
Mr Rudd has reportedly been campaigning for the position for months, hoping he will be the one to succeed current Secretary General Ban Ki-moon when he steps down from his post.
However, it appears that Ms Bishop is having none of it and has come out to say she has spoken with several world leaders and concluded that none of them are going to support Mr Rudd's bid for the job.
Ms Bishop said there is talk it is time for a woman to be appointed as Secretary General, and that there is also strong support for the job to be filled by a member from Eastern Europe.
"There's a long way to go before we know who the secretary-general of the United Nations will be in the future," she told reporters in Washington on Saturday.
Her statement is in stark contrast to a number of Labor MPs who say Mr Rudd is the perfect man for the job.
If Mr Rudd really wants the job though he'll have to convince more people than just Ms Bishop.
Ms Bishop says the decision over who will be nominated for the job will rest with the entire cabinet, meaning Mr Rudd has his work cut out for him.
"When we are aware of the full list of potential candidates, a recommendation will be taken to cabinet and a decision will be taken by cabinet," she told The Australian.
Considering the way he was ousted by his own party and the rocky relationship he reportedly has with many Labor Party and LNP members, it looks like there's a long road ahead for the former PM.
Do you think Kevin Rudd would make a good Secretary General at the United Nations? Do you think Mr Rudd is a good leader?
Comments