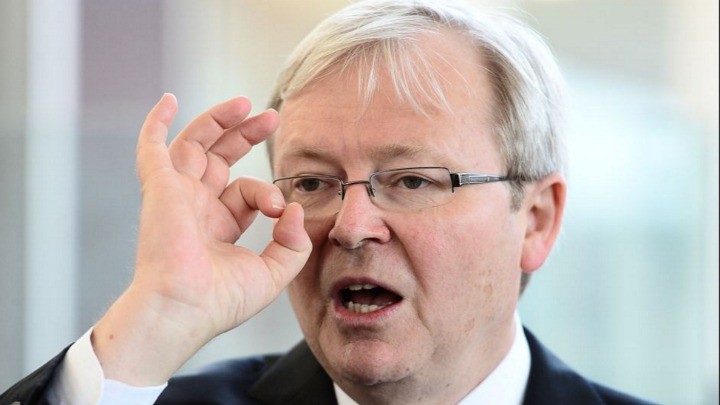 He's yet to officially throw his hat into the ring, but Kevin Rudd's ambitions to become the next Secretary General of the United Nations has been well publicised.
However, the former PM has played down his chances of actually securing the position saying he'd have better odds if he's name was "Ruddovich".
There have been reports the job will be filled by a delegate from an Eastern European country, meaning Mr Rudd's chances aren't good.
"Well my own view is that we are likely to have a UN secretary-general from East Europe this time, and that view hasn't changed," Mr Rudd said.
"Last I looked, my name is not Ruddovich."
Mr Rudd has been forging a name for himself on the international political scene ever since he was ousted as prime minster and instated as Australia's foreign minister.
Recently, Julie Bishop told the media that Mr Rudd had been travelling the globe trying to drum up support for his UN bid.
But she shot down his hopes of power by saying she had spoken to a number of world leaders and concluded that none of them would be supporting Mr Rudd's bid.
Mr Rudd addressed the comment yesterday, but refused to confirm whether or not it was true.
"That is a statement she made, and I didn't," Mr Rudd said in an interview with India's The Hindu newspaper.
There are a number of high-profile politicians from around the world vying for the job as Secretary General, including former New Zealand prime minister Helen Clark who is considered as the hot favourite to compete with the Eastern European candidates.
In stark comparison to Mr Rudd, Ms Clark was hugely popular in New Zealand and served as PM for nine years.
She is well-respected throughout the world and has won the backing from a number of prominent leaders.
Do you think Kevin Rudd would do a good job as Secretary General of the United Nations? Were you a fan of Kevin Rudd as Prime Minister?
Comments