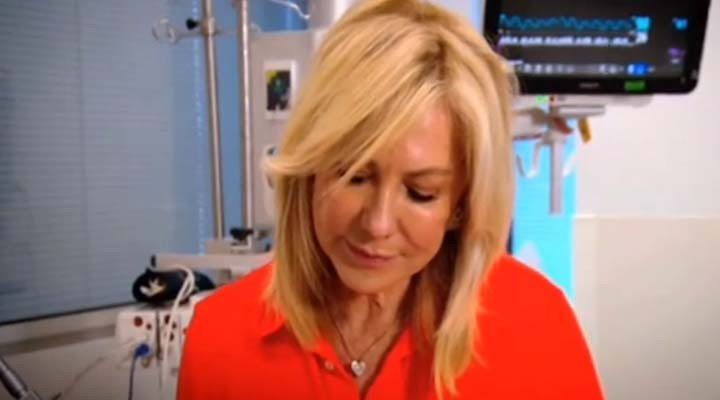 Kerry-Anne Kennerley has spent nearly a month by the side of her husband, 76 year old John Kennerley after a fall at a golfing evening that caused him to break his neck. Now rumours have it that she has been paid $350,000 to appear on Channel Seven's Sunday Night tonight to speak about it.
Kennerley is an icon in Australian media, having been a face on our screens solidly from 1967 to 2013. She is famous for her role on Good Morning Australia on Network Ten, Midday on Channel 9 and most recently moved worked with Seven. She has been an occasional guest presenter for Sunday Night in recent years. The SMH reports that Kennerley will receive the payment as a one-off and that she is not contracted to any network at this time.
Her face, in the public eye has always been immaculately presented, and yet Australians feel her humanity and personality more then many other media presenters, so this horrifying accident has touched people across the country.
The shorts of Sunday Night show a Kerri-Anne with little make-up, cut as what is being called a "deeply personal exclusive".
Her quote in the short says it all…
"I wake up thinking what a shocking nightmare that was … only that it wasn't a nightmare … it's real,"
Kerry-Anne Kennerley's Manager has been reported by the media to have been inundated with offers to interview her since day one of the ordeal. She has apparently held off until his condition had stabilised a bit.
John is believed to have to remain on a ventilator for the rest of 2016 after his fall on flat grass caused fractures in his C2 and C3 vertebrae. He can only communicate by blinking or through the use of an alphabet board.
Television crews have been attending the Intensive Care Unity of the Royal North Shore Hospital to film the interview and leave some raising eyebrows and making judgements.    In fact there has been a significant amount of criticism thrown at the star by media and the general public for the $350,000 fee which is one of the largest in recent media times.  We'll leave that role for others and wish John and Kerri-Anne a safe recovery with all our best wishes.  It will be important, if John makes it through this next stage for them to have money for the round-the-clock nursing and rehabilitation that will no doubt fill the remainder of his days.
The interview appears tonight at 8.30pm on Channel Seven.
Below, a picture of the pair taken just before the incident on the golf course.
Comments