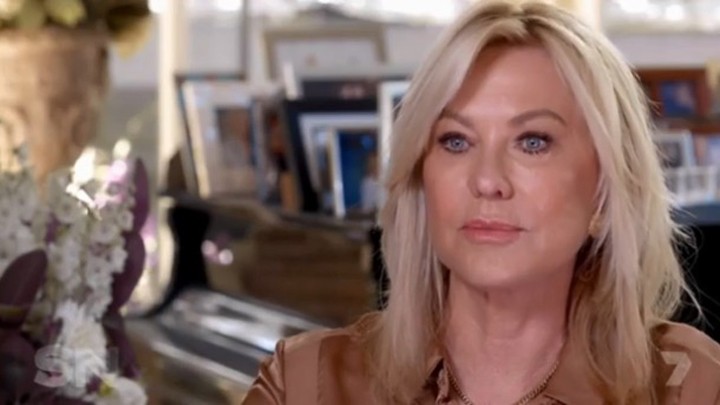 It's been a difficult month for Kerri-Anne Kennerley and her husband John. In March, John had an horrific fall that has caused a spinal cord injury, leaving him hospitalised and without movement.
By his side the entire time, Kerri-Anne has now spoken out in her first exclusive interview since the accident that changed their lives.
In a sneak preview for the interview, due to air this Sunday on 'Sunday Night', the 62-year-old revealed her 75-year-old husband promised to recover from the neck injury for her. "He said, 'the only reason I'm trying is for you'".
Her recollection of the incident is even more heartbreaking: "It happened so fast. All he could say is 'I can't feel anything, I can't feel anything'.
"I sort of wake up every day thinking, 'what a shocker, nightmare that was!'" KAK tells the camera, before adding: "It unfortunately is not a nightmare".
Her reality now is that John has been in hospital since being airlifted from the Bonville Golf Resort at Coffs Harbour on March 6 and one month on, Kerri-Anne's husband of 31 years is still in intensive care and is unable to breathe or eat without assistance.
Sadly, although fully conscious and able to be sat up, the fractures to his C2 and C3 vertebrae mean he is unable to move his upper limbs. The couple have been learning to communicate with an alphabet board and by blinking, reports News Corp.
According to the Daily Telegraph, the upcoming interview is an exclusive deal with the Seven network "in the region of $350,000″.
"Wow, the sliding doors of life," the veteran television personality says in the minute-long clip for the episode, clearly upset.
"While this is the most traumatic and devastating news we have been overwhelmed with messages of good wishes and prayers. Thanks to all," Kerri-Anne said last month in a statement.
We know we'll be watching this weekend as this brave lady shares her story and how a moment in time can alter your life's course.
Tell us, will you be watching? What messages of support do you have for Kerri-Anne?
Comments