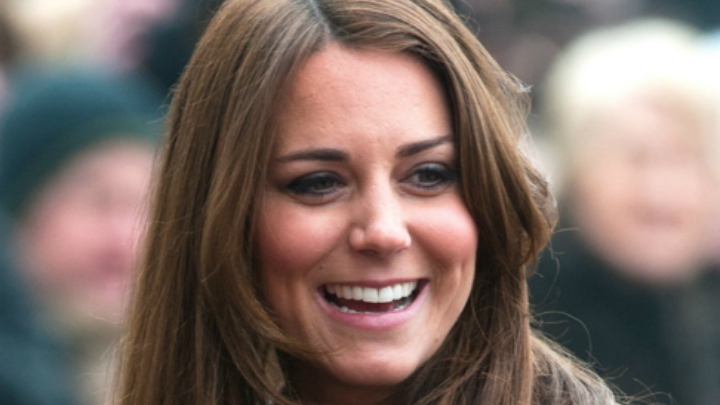 Kate Middleton has always had a great sense of style, and she's shown she can pull of classic styles effortlessly. But we have to say, her latest outfit shows that she can just as easily embrace new trends – and she looks good doing it!
On Wednesday, the Duchess of Cambridge attended a dinner at London's Natural History Museum, where she was presenting the Art Fund Museum of the Year Prize for 2016. The Art Fund Museum of the Year prize is awarded annually to one outstanding museum which has shown exceptional imagination, innovation and achievement in the preceding year.
Her ivory dress is from London-based Brazilian designer Barbara Casasola and was in line with the current trend of the off-the-shoulder look. In addition to showcasing her shoulders, the fitted stretch-jersey dress also flattered the Duchess' figure, which she elongated with towering peach suede heels.
The Daily Mail reports that, at the event, Kate revealed that her two-year-old son, Prince George, loves sculpture. And she said he loved visiting London's Natural History Museum to see the dinosaur models.
Kate was met on the steps of London's Natural History Museum by Ken Olisa Lord Lord Lieutenant, Stephen Deuchar director of the Art Fund and Sir Michael Dixon director of the Natural History Museum.
Inside, she was greeted by former culture secretary Lord Chris Smith, chairman of the Art Fund. Lord Smith said: 'It was the first time I had met the Duchess and she was utterly charming. She is an art-lover and recognises the importance of museums, both as a resource and their importance to young people. 'It's fantastic to have her presenting the Art Fund for this year and supporting the great work of all these museums.'
The Duchess, who is patron of the Natural History Museum and the National Portrait Gallery, presented the award to the Victoria and Albert Museum who were one of five organisations on the shortlist – the Arnolfini in Bristol, London's Bethlem Museum of the Mind, Jupiter Artland in West Lothian; and the York Art Gallery.
What do you think of Kate's latest look?
Comments