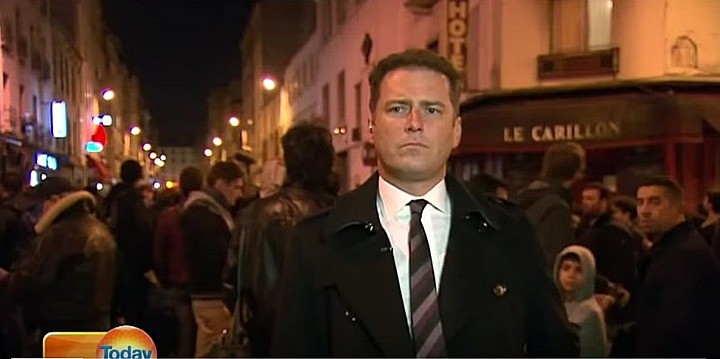 Proving they'll sink to the lowest level in their appeal for new recruits, Islamic State – or ISIS – have used footage of popular TV personality Karl Stefanovic in a new video.
The terrorist organisation released the 12-minute video overnight in a bid to attract more followers and fighters for their cause.
The footage of Karl was taken while he was doing a live cross to Australia from Paris after the shocking attacks on the city late last year.
Karl is shown ducking and running with away with the crowed after loud bangs, thought to be gunshots, were heard in the distance.
ISIS used the footage to praise the attacks in Paris and around the world. The rest of the video shows ISIS fighters lounging around and fishing, while children play in the background as they try to pitch the idea of an idyllic lifestyle within the terror cell.
Karl responded to video with a sarcastic tweet, telling the terrorists to tune in to his morning show and watch him give away cash to deserving Aussie families.
Make sure all you isil bastards tune in Monday. We are giving away heaps of cash and good times. https://t.co/sQyhCQIjeN

— Karl Stefanovic (@karlstefanovic) February 4, 2016
What do you think about ISIS using Karl in their video? Do you like the way Karl handled it?
Comments