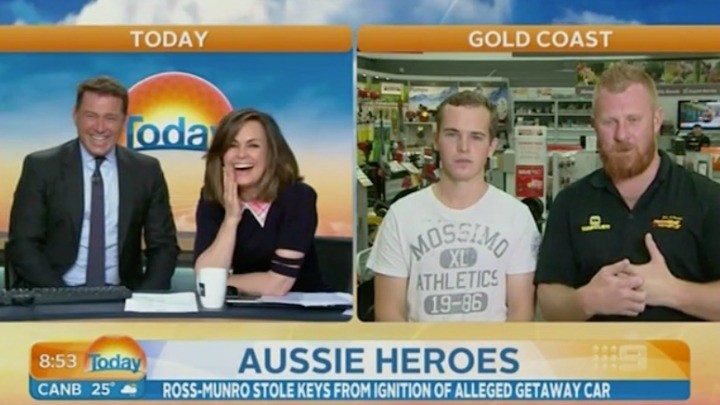 More than 300,000 people have watched this interview in which Karl Stefanovic and Lisa Wilkinson interview a couple of Aussie blokes who foiled a robbery at an Oporto chicken restaurant.
James Ross-Munroe and Kane Wiblen managed to nick the would-be thief's car keys, preventing a getaway. They posted their heroics on Facebook, will millions of people watching them in action.
Lisa and Karl, however, seemed less interested in the good nature of the blokes and more interested in their true blue Aussie-ness, which, to be fair, is second-to-none.
At several points throughout the interview, Karl is unable to speak because he is laughing so hard. At the end, he says, "that's it, that's the show for the year". He joked that the heroes were the reason he came back to work for the year.
As an aside; several businesses have stepped up to provide James with new thongs, plus clothing and other gifts.
Watch the hilarious interview here and share your thoughts:
Unlikely Aussie heroes suffer a "busted plugger" while foiling…

Shirtless and shoeless, James and Kane singlehandedly prevented the alleged robbery of a shop, despite having just suffered a "busted plugga"… We spoke to the true blue Aussie heroes this morning, and these two blokes are nothing short of awesome! On'ya boys! #Today9

Posted by TODAY on Sunday, January 24, 2016
Comments