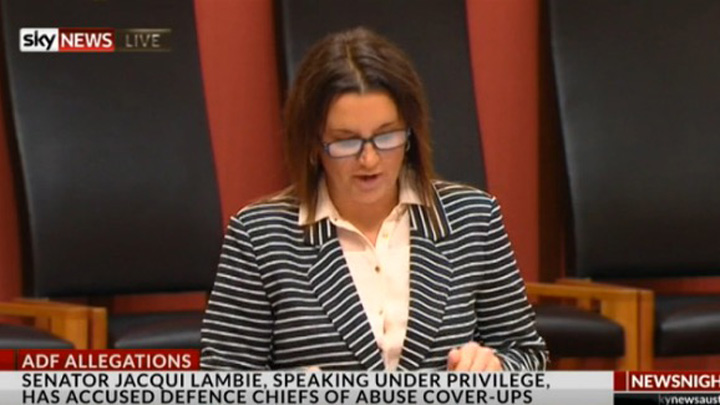 For anyone who has been or knows someone in the Australian Defence Force, you'll know the pride and dedication it takes to represent your country. Unfortunately, this was stripped away from two men and then covered up.
Jacqui Lambie has slammed the ADF for its treatment of two men, alleging they abused them and didn't take responsibility for the harm caused.
She has also called for Australian of the Year David Morrison to resign for his alleged involvement during his employment as the chief of the Australian Army.
Senator Lambie, under parliamentary privilege in the Senate adjournment debate overnight, spoke about SAS trooper Evan Donaldson and former Army officer Marcus Saltmarsh's abuse as they watched on from the public gallery.
"The cover up in this matter has been at a very high level, spectacular and absolutely deliberate," she told the chamber while describing Mr Saltmarsh's case, reports the Courier Mail.
She said Mr Saltmarsh had been the "subject of extraordinary abuse of office by senior members of the Australian Army".
Senator Lambie believes he should be awarded the immediate classification total permanent impairment for post traumatic stress disorder after being sent 28 autopsy photos of his best friend, who he accidentally killed.
While serving in East Timor in 2000, Mr Saltmarsh's rifle independently discharged, accidentally killing Corporal Stuart Jones.
In other shocking allegations, Lambie said Trooper Donaldson had been the victim of brutal sexual abuse and other assaults during secret training exercises run by the Defence Intelligence Organisation.
"Evan was bashed, bound, bagged, blindfolded, stripped naked, placed in stress positions, deprived of sleep and food for 96 hours and during that time he was sexually assaulted and left bleeding," she said.
She said he had been subject of almost seven years of government investigations and the Defence department had misled six defence ministers regarding the case.
Senator Lambie invited PM Malcolm Turnbull to meet the two veterans and hear their plights for himself.
Tell us, do you think there should be more done to help our war veterans with PTSD or even more transparency over abuse or other issues?
The video of Ms Lambie's address can be found here
Comments