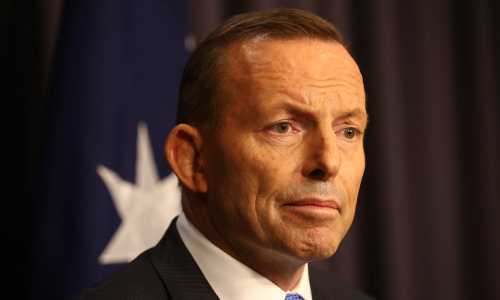 Tony Abbott has confirmed today that he will remain in parliament until the next election, saying that the role of a backbencher is an honourable one, and that he is happy to represent the 100,000 people of his electorate.
But, while it's good to know we won't have to form out $450,000 for a by-election as we did for Joe Hockey's seat of North Sydney, the question is, will Mr Abbott do more harm than good?
In just three short months, it's become clear that without the advisors and media people hovering close, Mr Abbott has taken the gloves off and is prepared to keep on swinging.
The enemy, as we all know, is ISIS/Daesh or whatever you want to call them. Just this morning, Mr Abbott again called for Australia and our allies to step up our fight against ISIS.
Speaking to Alan Jones on 2GB, the former prime minister said, "We've seen from bitter experience how easy it is to make a bad situation worse in the Middle East. But nevertheless just because Islamic State — the death cult, as I call it — is spoiling for a fight, that's no reason not to give it to them," he said.
"If they're unfought they continue to flourish and while they're flourishing they are inspiration to a whole lot of people who might not otherwise do the dreadful things that we're now seeing.
"So it is important to escalate the campaign against Islamic State in the Middle East just as it's important to make sure that we're doing everything we humanly can both to engage with decent Muslims here at home and abroad and to have a very strong domestic security response as well."
This call to arms comes just days after Mr Abbott said "all cultures are not equal" and that Islam needed to undergo a version of Christianity's ­Reformation, The Australian reports.
"One of the responsibilities of being an ex-prime minister is, from time to time, to speak out sensibly on important subjects," said Mr Abbott.
However, others are less enthusiastic about the former prime minister's new calling. Yesterday Bill Shorten told a media conference that Mr Abbott had been "let off the leash" and that his comments were damaging, Fairfax reports.
"I don't know if he's Australia's version of Donald Trump but he's a very unusual man, Tony Abbott," Mr Shorten said.
"I think his views are not befitting a former prime minister who was in charge three months ago…We shouldn't have a bar of what he says."
The opposition leaders has called on the Prime Minister to bring Mr Abbott into line, however, Mr Turnbull said earlier this week that his former rival was entitled to an opinion.
Counter terrorism expert associate professor Nick O'Brien disagrees. He told Fairfax that Mr Abbott's comments about Islam and the "death cult" made the Muslim population of Australia feel "under siege".
"I know the head of ISIS Baghdadi will be rubbing his hands together with glee because they're exactly the sort of comments that will drive people towards being radicalised," he added.
Do you think Tony Abbott is entitled to speak his mind? Or should he be reigned in?
Comments