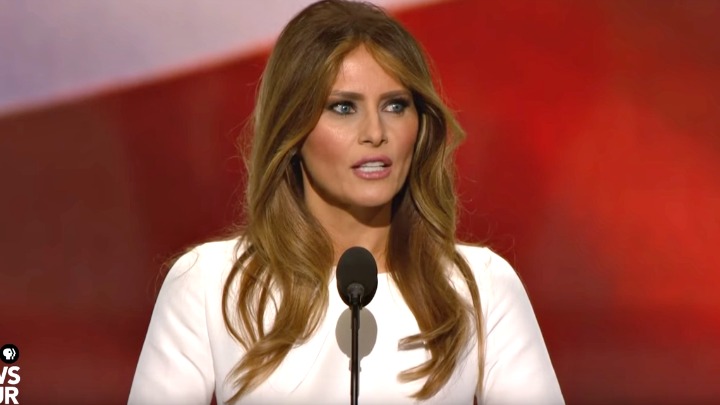 Melania Trump has been accused of plagiarising Michelle Obama's speech from back in 2008, reports CNN. Melania Trump gave a speech at the Republican National Convention's opening night and almost immediately came under fire when a passage in her speech closely mirrored a portion of Michelle Obama's address to the Democratic National Convention in 2008.
Even though the similarities were discovered by an independent journalist and had gone viral before Clinton's allies and Democrats even weighed in, Trump's aides were quick to blame Hillary Clinton's campaign.
Campaign chairman Paul Manafort denied the allegations of plagiarism, "To think that she would do something like that knowing how scrutinised her speech was going to be last night is just really absurd." He also said the words Melania used were not "cribbed" but are common words.
"There's no cribbing of Michelle Obama's speech. These were common words and values. She cares about her family," said Manafort. "To think that she'd be cribbing Michelle Obama's words is crazy."
Side-by-side comparisons of the transcripts show there are nearly word-for-word similarities.
To defend the authenticity of Melania's speech, Republican National Committee's chief strategist Sean Spicer, used "My Little Pony" in an interview with CNN's Wolf Blitzer.
"Melania Trump said, 'the strength of your dreams and willingness to work for them.' Twilight Sparkle from 'My Little Pony' said, 'This is your dream. Anything you can do in your dreams, you can do now,' " Spicer said.
He also compared passages of Trump's speech with phrases from musicians John Legend and Kid Rock.
"I mean if we want to take a bunch of phrases and run them through a Google and say, 'Hey, who else has said them,' I can do that in five minutes," Spicer said. "And that's what this is."
However, Trump's campaign faced too much backlash even from allies, who largely don't blame Melania Trump  but staffers.
After similarities were uncovered, The Trump campaign released a statement on the speech but it did not mention the plagiarism charge.
There were a lot of questions about who wrote the speech but no one really knows who did it. Sources familiar with the campaign said top Manafort deputy Rick Gates oversaw the entire speech process for Melania Trump but he denied it and when CNN's Jim Acosta asked Gates if he oversaw the Melania Trump speech process, he said "absolutely not."
Here's the video of the speech…

Do you think this will make people think twice about having the Trumps in the White House?
Comments