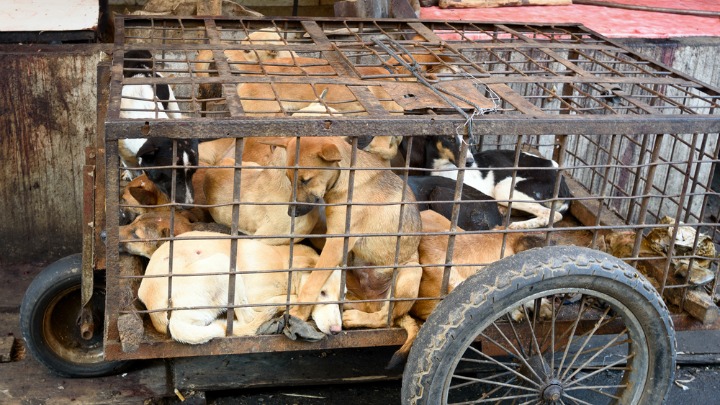 It's an annual festival held in Yulin, China, but people are so outraged by the practice that more than 11 million signatures have been collected in the hope it will be banned.
Western cultures might not consider the family dog or cat something to be nibbled on, but in southern China there is a 10-day festival that does exactly that, and it's causing quite a stir.
Yulin dog meat festival is sickeningly cruel so join me and support @HSIGlobal to #StopYulin https://t.co/WKyHXtYFD2

— Simon Cowell (@SimonCowell) June 21, 2016
The Lychee and Dog Meat Festival will see roughly 10,000 dogs and cats killed and eaten as people gather in Yulin for meat hotpots, lychee fruits and local liquor.
It's a tradition that dates back some 500 years in China, South Korea and other countries, and those taking part believe doing so helps ward off the heat in the summer months.
FRIENDS, NOT FOOD: Chinese dog eating festival in Yulin goes ahead despite protests https://t.co/n4GNGUoByq pic.twitter.com/Bn0UI10sU4

— New York Daily News (@NYDailyNews) June 21, 2016
The local government says the festival does not have official backing, rather it is staged by private businesses.
While residents and vendors say the animals are killed humanely, critics disagree and have cited incidents where animals have been denied food and water, or have been killed publicly and brutally — including being beaten to death or cooked alive.
The conditions for these animals are less than idea, and there are suggestions that some are stolen pets because they have been photographed wearing collars and looking in good health.
Dog meat is legally sold for human consumption in China.
But a recent poll shows 60 per cent of local people aged 16 to 50 years would support the festival's permanent end, while another 51.7 per cent would like to see the dog meat trade banned entirely.
China has a very strong pet industry. Animal grooming in particular is said to be worth $1 billion annually; who can forget the trend to get your dog clipped and permed in such a way they resemble a panda? It's little wonder then the Yulin festival is getting such a negative response.
In 2011, a similar festival in the Chinese province of Zhejiang was banned.
What do you think about the dog meat festival?
Comments