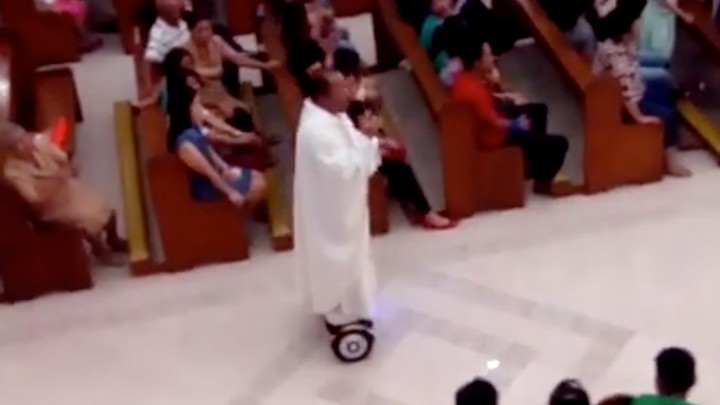 Father Albert San Jose has gotten into some hot water over a recent novelty on Christmas Eve.
The Catholic priest greeted visitors with a Christmas song while riding about on a "hoverboard" electric scooter, gliding as if by divine influence to laughter and applause.
This entire lively performance was caught on video by one attendee and shared to Facebook, where it has since gone viral:
This calls for a reparation!Instead, pray a rosary for this priest and attend a Traditional Latin Mass!

Posted by NOVUS ORDO Insider on Saturday, December 26, 2015
.
Churchgoers in the video seemed visibly impressed and enthusiastic as he rode past. The Church, however, was somewhat less happy with his creative addition.
According to the ABC, the Diocese of San Pablo has since suspended Father Albert, stating that his actions were "wrong".
"The Eucharist demands utmost respect and reverence," said their statement.
"It is the Memorial of the Lord's Sacrifice. It is the source and summit of Christian life. It is the Church's highest form of worship. Consequently, it is not a personal celebration where one can capriciously introduce something to get the attention of the people".
The Diocese said Father Albert would be "out of the parish" and would "spend some time to reflect on this past event".
"He would like to apologise for what happened".
Was this worth a suspension? Should a priest have freedom to be a little creative in this day and age? Or is it making a mockery of something sacred? 
Comments