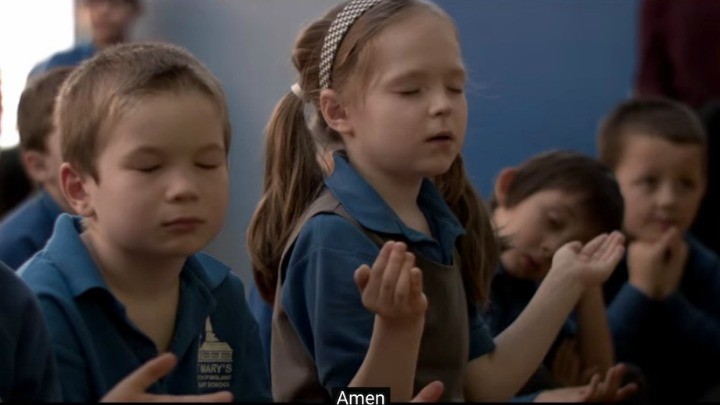 The Church of England says it is "bewildered" by the decision of British cinemas to refuse to screen an advertisement showing people from all walks of life saying The Lord's Prayer.
The 60-second ad is part of a push by the church to promote prayer in the digital age, and features weight lifters, a police officer, a commuter, refugees in a support centre, school children, a mourner at a graveside, a festival goer and the Archbishop of Canterbury.
The church wanted to run the ad in for the launch of Star Wars: The Force Awakens, but three of the UK's largest cinema chains refused its money and decided not to run the ad. Together, Odeon, Cineworld and Vue, control 80 per cent of screens in the UK.
Digital Cinema Media, which handles most cinema advertising in the UK, told the Church of England it has a policy not to run advertising connected to personal beliefs, specifically those related to politics or religion: "Our members have found that showing such advertisements carries the risk of upsetting, or offending, audiences."
The Reverend Arun Arora, Director of Communications for the Church of England, said in a statement, "The Lord's Prayer is prayed by billions of people across the globe every day and in this country has been part of everyday life for centuries. Prayer permeates every aspect of our culture from pop songs and requiems to daily assemblies and national commemorations. For millions of people in the United Kingdom, prayer is a constant part of their lives whether as part thanksgiving and praise, or as a companion through their darkest hours.
"In one way the decision of the cinemas is just plain silly but the fact that they have insisted upon it makes it rather chilling in terms of limiting free speech. There is still time for the cinemas to change their mind and we would certainly welcome that.
"In the meantime people should visit the site, see the film themselves and make up their own minds as to whether they are upset or offended by it."
Would you be offended if you saw this ad in the cinema with your grandchildren?
Comments