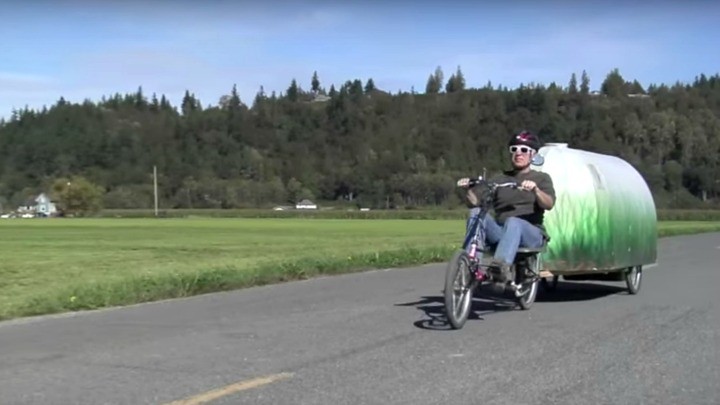 First there was camping, then came glamping and now there is this…. the "stealth camper".
Paul Elkins tours the country in his homemade "stealth camper" which weighs only 27kgs and cost him $150 to make.
This takes the cake as not only the smallest house we've seen but is also attached to a bicycle so he can travel around wherever he likes. It's his exercise, transport and home all in one!
In order to make this incredible structure he used recycled fluted-plastic campaign signs (from a recent election), six pine boards, duct tape, zip ties, screws and a $20 bike.
When you first lay your eyes on his "home away from home" you might mistake it for a doghouse or cubby for very small children, but don't be fooled, on the inside it is a fully functioning camper.
It comes complete with a stove, sink, counter, storage for food and clothes as well as a bed, LED lighting and a nifty sky light so you can really sleep under the stars. Paul has truly thought of everything, this little camper has all the loved features of home, it is even insulted so that he can stay warm in the winter.
He designed it for travel, but it could change the game for the homeless or those who need immediate housing.
"For people who can't afford a pickup truck and to build a little home on a trailer, maybe they could just do this and tour around. For people who are adventurers and don't mind pulling a little weight and taking their time traveling, this I think would be a fun way to go," Paul said.
"It does show the possibilities of a new way to get around and travel or to live. You don't have car insurance, you don't have home insurance payments. What do you got? Food."
Would you travel or live in one of these?
Take a look inside his stealth camper here:
Comments