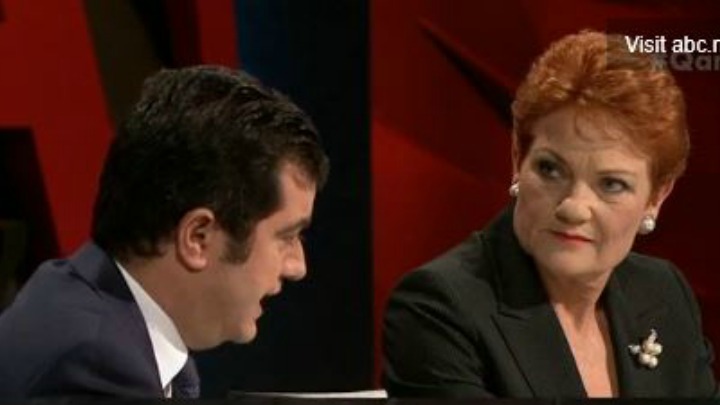 Things were bound to get heated when Pauline Hanson, newly elected Queensland senator, appeared next to Labor senator Sam Dastyari on the ABC's Q&A program on July 18. What started out as a sort of joke a couple of weeks ago with the offer of 'sharing a halal snack pack' turned into a feisty debate with harsh words on the popular panel show.
A member of the audience asked Hanson to explain the grounds on which she has called for a royal commission to determine whether Islam is a political ideology or religion.
With all due respect @PaulineHansonOz, what is basis of your islamophobic feelings? Hate, Fear or Ignorance? #QandA https://t.co/BjSjuzVf13

— ABC Q&A (@QandA) July 18, 2016
"Why are you pushing this agenda and pushing fear into our community?" the audience member asked.
"People in Australia are in fear because they can't walk in the streets, they're in fear of terrorism, which is happening around the world," responded Hanson. "Why? Because of Islam."
Her response was met with fire from senator Dastyari who told her she was "not an amateur… you know exactly what you're doing and the language you use and the power of your language".
Dastyari told Hanson that she was the master of picking one section of the Australian community and laying the blame on that one group for what are widespread and complicated problems.
"It is the politics of picking one section of our community — pitting one section of our community against another section of our community, about simplifying complex problems and placing the blame on one group at one point in time. It is the politics of fear and division, and Ms Hanson — you're incredibly good at it," Dastyari said.
Senator Dastyari then took aim at Channel 9 television host Sonia Kruger who had earlier in the day spoken out regarding the immigration of Muslims to Australia, saying her comments had affected his family.
"Are you Muslim? Really?" Hanson asked him.
Dastyari's family moved from Iran in 1988. He was born in the Islamic nation under Islamic law and told Hanson "I think you're trying to make a joke of what is serious".
The program centred on policy areas of religion, immigration and terrorism and, as one would expect, Pauline Hanson was in the firing line. Other panellists were Simon Birmingham, Larissa Waters and Nick Xenophon.
Do you think Pauline Hanson is spreading fear and division or is she highlighting issues that some Australians are genuinely concerned about? Was the Q&A program deliberately set-up to attack Pauline Hanson and her views and policies?
Comments