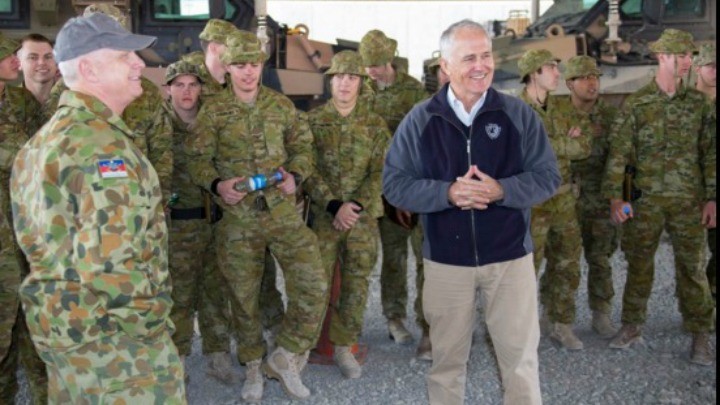 Ahead of his first official talks with Barak Obama, Malcolm Turnbull appears to have taken a leaf out of the American president's book, dropping in on Aussie troops in Afghanistan, snapping selfies and sharing inspirational words with the 250 personnel in the war torn country.
In a brief, but heartfelt speech, Mr Turnbull told the troops that he personally appreciated their service:
"Thank you for you for the work you're doing. I know some of you have been here for a long time.
"The work you're doing here in Afghanistan is not just of vital importance to Afghanistan, moulding the leaders of the future, the leaders of the Afghan National Army that will enable Afghanistan to secure itself to maintain its own security. That is overwhelmingly the most important defence and you're enabling that working with our allies here.
"Your work is also very important for Australia. Afghanistan seems a very long way away. I know at times you'll feel it's an extra long way away, you're missing home, and you're missing your family and your loved ones. But the challenges that we face in maintaining global security in the face of violent extremism, in the face of terrorism, is a genuinely global effort. So security in Afghanistan, security in Iraq, finding a settlement in Syria and Iraq, ensuring a reconciliation is achieved here, these are all vital elements in keeping us safe at home, keeping Australians safe at home and abroad. So this is critical work, critical work for Australians.
"We are so proud of what you do. Australians are so proud of what our ADF men and women do. I want to thank you as your Prime Minister, thank you for your work.
"We admire your professionalism, we admire your courage, and above all we thank you for the magnificent way you are representing Australia standing up for our values, ensuring that we can move towards a safe and more secure world. It will never be as safe as we want it to be. It will never be as secure as we would like. But your efforts are making a real difference. I thank you from the bottom of my heart for what you are doing here today and in the weeks and months to come."
Mr Turnbull has also used his social media prowess to share this appreciation with the world.
On Instagram, he wrote, "More than 25,000 Australian Defence Force personnel have served in Afghanistan since 2001 and it has been an honour to meet the latest troops to be deployed here and thank them for their service. 
"Over this long deployment Australian servicemen and women have defended the security and improved the lives of the people of Afghanistan. In doing so they have helped make Australia safer from the threat of terrorism. Their service has been another chapter in our proud ANZAC history."
Our servicemen & women have improved the lives of the Afghan people – another chapter in our proud ANZAC history pic.twitter.com/Tz1N20APvc

— Malcolm Turnbull (@TurnbullMalcolm) January 17, 2016
Are you pleased to see the Prime Minister acknowledging Aussie troops in such a personal way? Do you think they get the recognition they deserve?
Comments