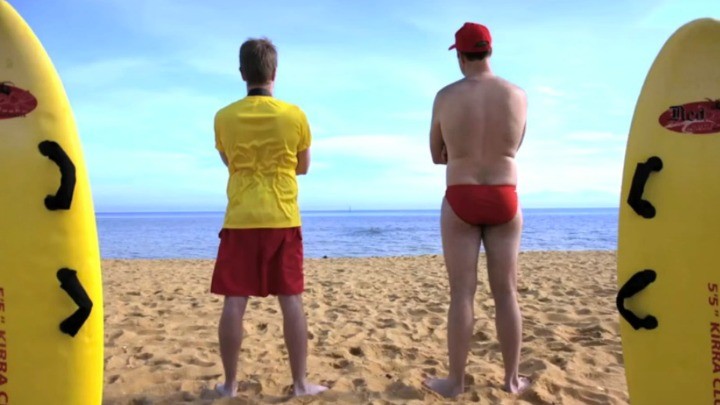 Advertisers will use whatever tricks they can to get their messages across, be they parody, humour or shock tactics. But we're wondering if taking the mickey out of something every Australian is the right way to get us onside.
Refugee advocacy group Balmain for Refugees, part of the Balmain Uniting Church, has created a new ad that parodies a pair of lifesavers watching a man drowning but not doing anything about it.
"It looks like that bloke's in trouble out there," says lifesaver Kev before he and Bruce debate all the reasons they shouldn't go out and rescue the man, including that he's not quite within the flags, and that if they did bring him in, there's no room for him because the beach is full.
The ad ends with the tagline: "This doesn't happen at our beaches. Don't let it happen at our borders" and says "It's un-Australian not to help".
While the organisation clearly has a point to make, it could draw ire from the Australian community for being 'un-Australian' for portraying our lifesavers in such a negative way.
Media industry website Mumbrella reports that Surf Life Saving Australia is considering legal action for using the distinctive red and yellow colours that we all know and love.
The organisation may demand the ad be taken down, saying it could harm the reputation of surf lifesavers and the organisation that has been in force and saving lives on our beaches since 1907. The SLSA will argue that the ad infringes its intellectual property.
A spokesperson told Mumbrella that the ad is in no way endorsed by SLSA.
"Surf Life Saving is an iconic part of Australian society and our volunteer patrolling members and professional lifeguards serve their communities with the utmost integrity.
"SLSA is prohibited by its constitution to make any political comment. SLSA takes water safety and drowning prevention seriously and our vision is zero preventable deaths in Australian coastal waters. SLSA is an inclusive organisation and is committed to reducing coastal drowning."
Do you think this ad goes too far? Is it ever okay to take pot-shots at people who volunteer their time to save Australians' lives?
Comments