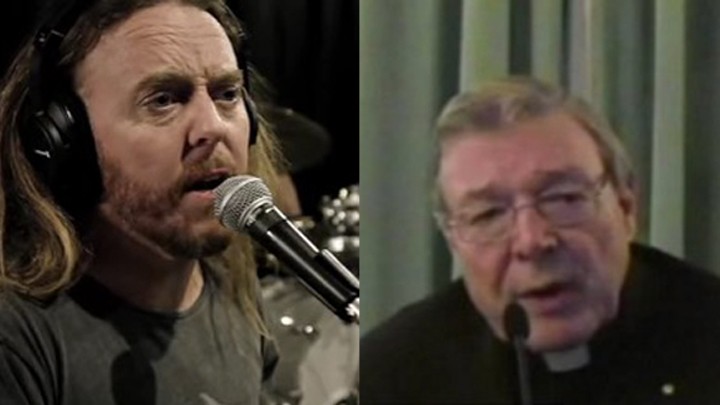 He wrote a song that condemned Cardinal Pell for not coming home to face victims, and now Tim Minchin has so more thoughts on the whole situation, echoing sentiments around the world.
It was no secret that the sexual abuse victims were disappointed with Cardinal Pell's foggy recollections of events, as were many of our readers.
Tim Minchin has spoken out about the song that has now had over 1.4 million views on YouTube, went to number one on the iTunes charts, and generated a campaign to send the abuse victims to Rome for Pell's video link hearing.
After hearing Cardinal Pell give evidence in Rome, Minchin told the Herald Sun: "I feel sorry for (Cardinal) Pell in many, many ways but it doesn't mean there wasn't room for a cheeky little pop song.
"I'm really, really sad that he couldn't say, 'This was terrible, we were wrong, it (child sexual abuse) was systemic and endemic and we're trying to improve and I was wrong with the Melbourne Response'.
"He doesn't have to hang himself out to dry. He just needs to look them (victims) in the eye … he doesn't have it in him. He doesn't have the intellectual sophistication or the self-awareness to know how to help.''
And could the Church sue him over his song? I don't suppose there's much chance of that happening. It would be a terrible PR thing for them", Minchin replied cheekily.
In a separate interview with SMH, Minchin said the man he labelled "scum", a "pompous buffoon" and a "goddamn coward" wasn't the only person he felt sorry for.
"I feel sorry for everyone in this sorry affair," he said.
He didn't mince his words: "I wish the f—er had come back, though, because to not come back shows a massive disconnect with what the survivors need. They weren't believed, and they need not just to be believed but publicly believed by the institution. And he's the big guy. It's not my fault that he's the big guy.
"This is not a guy inclined towards a humble offering of redemption", he said.
Tell us: do you agree with Tim Minchin on this one?
Comments